Major Tourist Attractions: Great Sphinx of Giza, Egyptian Pyramids, Valley of Kings, Great Pyramid of Giza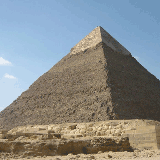 Egypt Travel Insurance
Arch RoamRight offers travel insurance for U.S. residents traveling to Egypt. Whether you need travel insurance to help protect the expenses you've paid into your vacation, or short-term travel medical insurance while you're in Egypt, we have several travel insurance plans for you to choose from. Get started by completing our quote form above.
About Egypt
As one of the most iconic countries in the world, Egypt has intrigued travelers for thousands of years, all the way back since the Old Kingdom. From the settlements in Ancient Egypt to the recent revolution, Egypt has always been a node of important events
that have shaped and changed the course of history, both national and international.
The Land of the Pharaohs, as it is often known, is a living museum that keeps evolving and uncovering secrets from its rich past. Pharaohs like Tutankhamun, Ramesses II, Akhenaton, and even his wife Nefertiti, tell a vivid picture of a glorious time in
Egypt through their monumental legacy, treasures, and written history. But Egypt is not all about ancient times; history is still being made, most recently with the Arab Spring that shook the country to its core and is still yet to be fully defined
where would it lead.
It is easy to travel Egypt, as most sights are located near popular modern day cities like Cairo, Luxor, and Aswan. Still, Egypt can bring a high sense of cultural shock through the interaction with locals, the bustling markets, the desert environment,
and even the food.
Egypt also offers a more laidback side with its modern holiday coastal resorts in Sharm El-Sheik and the picturesque Elephantine Island, to name a few.
If you want to go deep into Egypt's history and culture, here are some things you should not miss:
Visit the Pyramids of Giza, the only survivors of the Seven Ancient Wonders of the World.
Visit the Valley of the Kings to see Tutankhamun, Ramesses The Great, and Seti's tombs, among many other pharaohs.
Marvel at the huge statues of Pharaoh Ramesses II in front of Abu Simbel funerary complex.
Eat Koshari, a very cheap but delicious dish of rice, macaroni and lentils mixed together, topped with a tomato-vinegar sauce.
Sail on a felucca along the Nile, between Luxor and Aswan.
Relax in the laidback environment of Elephantine Island.
Dive in the Red Sea by Sharm El-Sheik – one of the best diving spots in the world.
See the French colonial atmosphere and relaxed Greek influence found in Alexandria.
Do a pilgrimage to the historic Mount Sinai to witness the sunrise across the desert landscape.
Temple hop in Luxor, including Luxor Temple, Karnak, Deir El Bahari, and more.
Visit the ancient capital's necropolis in Saqqara.
Go deep in history at the Egyptian Museum with its thousands of artifacts and records.
Feel the Islamic Cairo at Al-Muezz Al-Din Street through its mosques and mausoleums.
Embassy Contact