The rules of the Egypt – Sudan border do change fast. This article contains the latest information from 2018. If you have more up-to-date information, kindly let me know and I will update this accordingly. 
Crossing the border from Egypt to Sudan overland is not as easy as it may sound. Probably, you think that it is as simple as catching a direct bus from Abu Simbel (the last city in Egypt) to Sudan, but it doesn't work like that, as they leave from Aswan. In this article, I am going to show you the whole process, step by step, from catching the bus in Aswan to arriving in Wadi Halfa (the first city in Sudanese after the border).
Don't forget to check my Sudan Travel Guide and my Egypt Travel Guide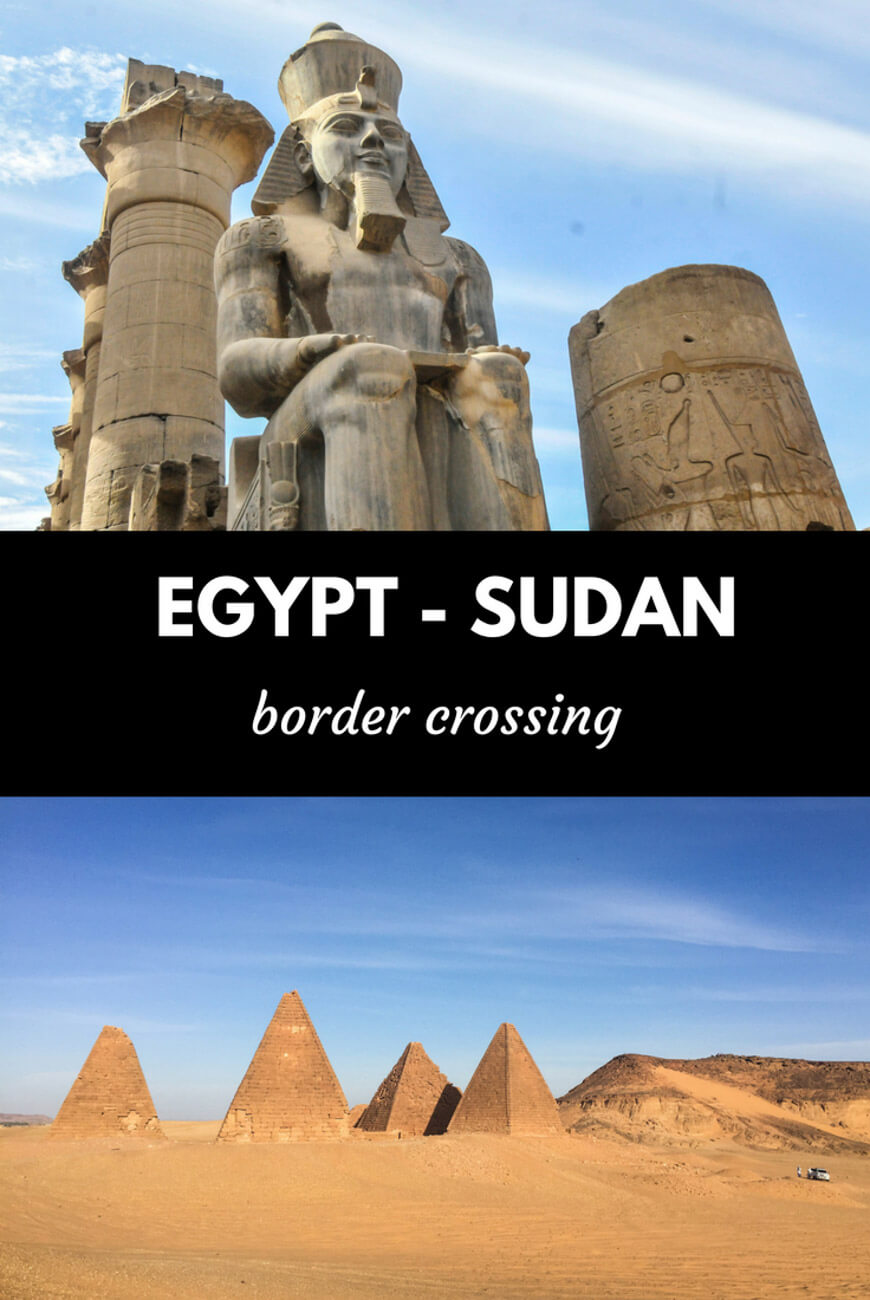 How to cross the Egypt-Sudan border overland
Here you will find:
Egypt to Sudan border crossing
Sudan to Egypt border crossing
More Information
Remember to get travel insurance for Egypt
I strongly recommend IATI Insurance as it has COVID-19 coverage + 5% discount
5% discount if purchasing via this link
Egypt to Sudan border crossing
First of all, you need to know that there are two different ways of transportation of getting into Sudan: by boat or by bus.
Which one should you choose? That depends on the money you want to spend and the time you have.
Aswan to Wadi Halfa (Egypt – Sudan border) by ferry
Pros: Sailing along the Nile and across Lake Nasser must be an unforgettable experience
Cons: It takes 24 hours to reach the border, the boat only leaves once or twice a week and it's expensive
Here are some things you need to know:
Price
Second class: 325EGP + 50EGP departure tax ($18 + $3)
First class: 475EGP + 50EGP departure tax ($27 + $3)
On second class, you get a bench to sleep on, whereas on first class you get a room with 4 beds with dirty, 30-year-old linens. Many travelers prefer to travel in second class, not because of the price but because it's more hygienic.
Food
On the boat, you can get some basic meals, like bread, foul beans, eggs, and sweets. You can also get sodas, water, and tea. Anything extra, you should bring it with you.
Timings
Since now, the bus runs every day, the boat only leaves on Sunday. Before you could also take it on Thursday.
Departure time is pretty uncertain as they tell you something between 10am and 5pm. However, apparently, the average time is between 2pm – 4pm. The train from Aswan to the harbor leaves at 7:15am.
The boat takes around 20 hours to Wadi Halfa.
Harbor location
Aswan High Dam. These are the approximate coordinates: 23.973062, 32.896697. It's 16 kilometers from Aswan.
Important – This is Egypt, so don't trust the above schedules, as they keep changing all the damn time. While you are waiting for your Sudan visa, go to the terminal and ask for the exact timetable.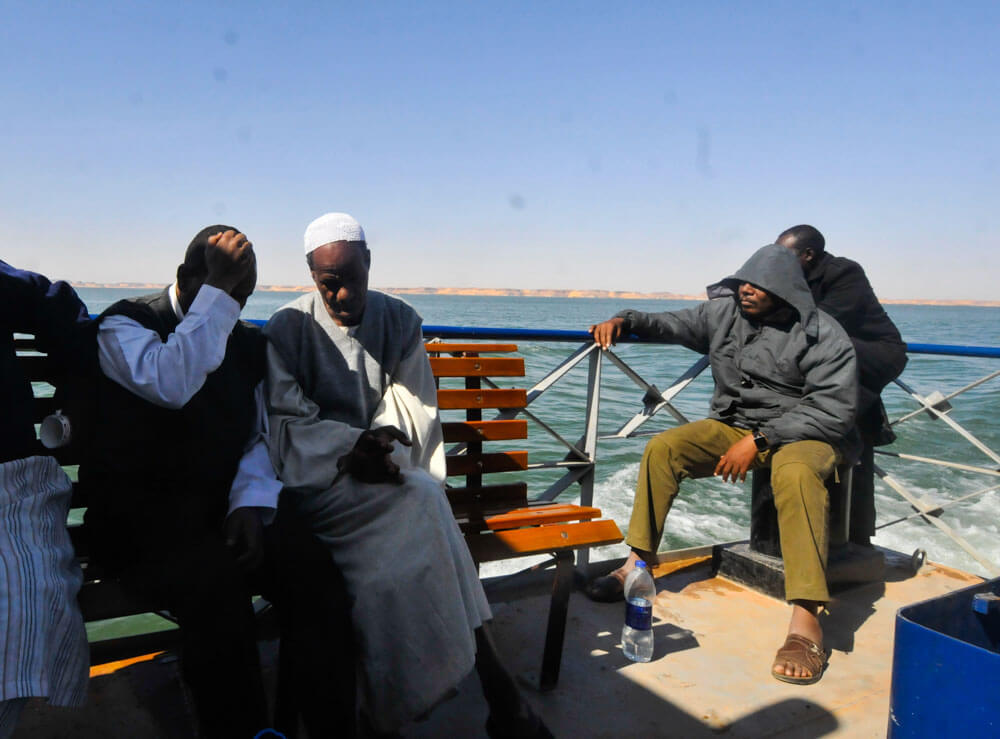 Sudanese get pretty sick when they go on the boat
Aswan to Wadi Halfa (Egypt – Sudan border) by bus
Pros: It's way faster, cheaper and there are daily buses
Cons: The experience is not as awesome as going by boat
I got my visa on a Monday, so I had no other choice to take the bus. Here's everything you need to know.
Read: How to get a visa for Sudan
Step 1: Get your bus ticket to Wadi Halfa
Ideally, you should be able to catch a direct bus from Abu Simbel to Wadi Halfa, right? Ideally, yes, but unfortunately, it turns out that the buses to Sudan only leave from Aswan, which is 300 kilometers north of Abu Simbel.
In Aswan, you can book a bus ticket to Wadi Halfa.
In 2018, prices have increased to 250EGP (14USD).
You can also buy a direct bus to Khartoum, which costs Khartoum (500EGP, 28USD).
Buses leave from Aswan every day at 5 am and 8 am. Both timings and prices may vary slightly depending on the company you go with. Moreover, be aware that this is Egypt, so it wouldn't surprise me that someone tris to charge you three times more.
It's better to book your ticket at least 24h in advance, at Aswan's bus station.
Pro tip –You can actually catch the bus in Abu Simbel. How? Believe it or not, there is no direct road from Aswan to the border but, in Abu Simbel, you need to get on a ferry, with the bus included. When you arrive in Abu Simbel, you have to wait for a few hours before getting in the boat. What you can actually do is to buy your Aswan-Wadi Halfa ticket in Aswan and tell the guy that you want to be picked up in Abu Simbel. Still, you'll have to pay the ticket for the whole journey but you will be able to visit Abu Simbel. It's actually possible and I know one person who did it.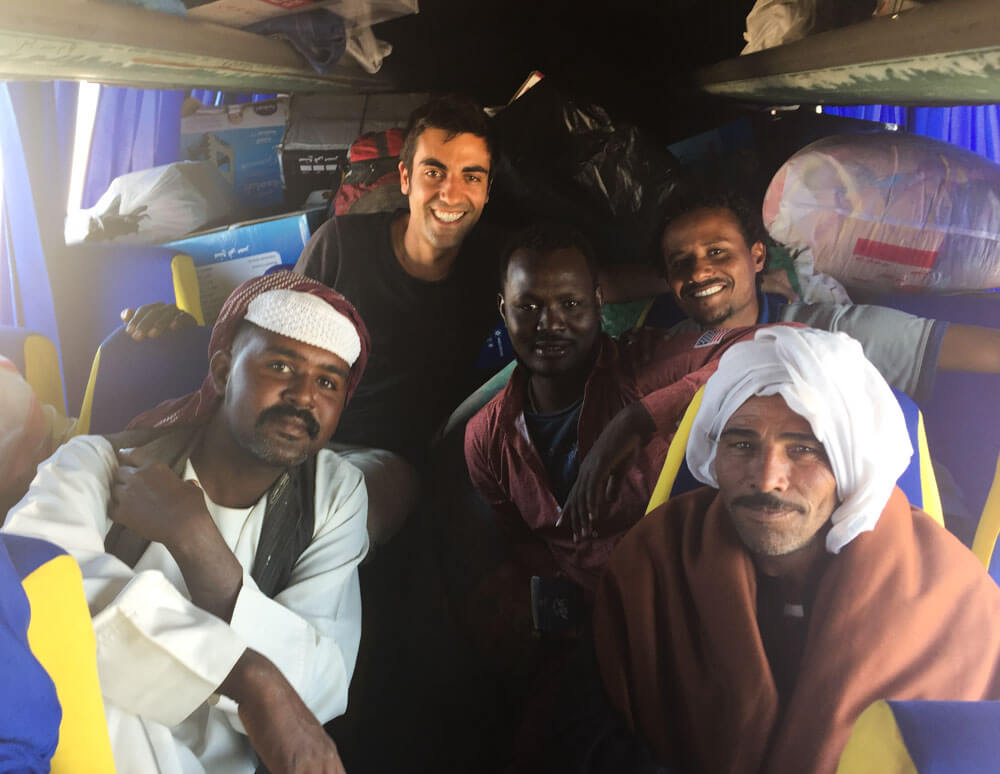 Having fun with the rest of the passengers
Step 2: The journey from Aswan to Abu Simbel
Here we go, the journey begins! The bus will be overpacked with Sudanese carrying the most extravagant things. From washing machines to chairs and oversized baggage. It's crazy. Who the hell travels with a fridge? Apparently, since the Egyptian Pound devalued so drastically (around 250% in only 2 years), every day, hundreds of Sudanese people cross the border to buy stuff for their homes.
Time: 3-4 hours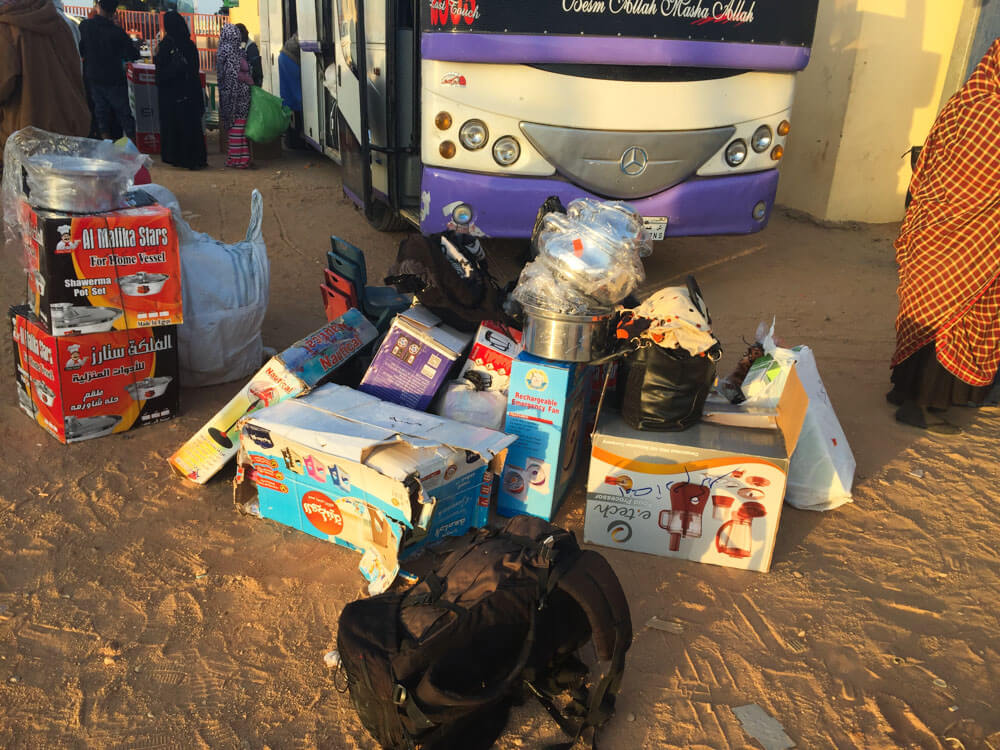 They travel with the most extravagant objects
Step 3: Lunch break in Abu Simbel
Before the ferries arrive, all buses heading to Sudan take a lunch break in Abu Simbel. Most people there are from Sudan and, most likely, you will be the only foreigner. I highly recommend sitting with any Sudanese group to eat fried fish from the Nile, a typical Sudanese dish.
Time: 2-3 hours
Very important – Apparently, there is a new road that goes from Aswan to the border and skips Abu Simbel. However, as of October 2018, the road remains closed and buses still go to Abu Simbel and get on the ferry. If you have any more updated information, kindly let me know in the comments.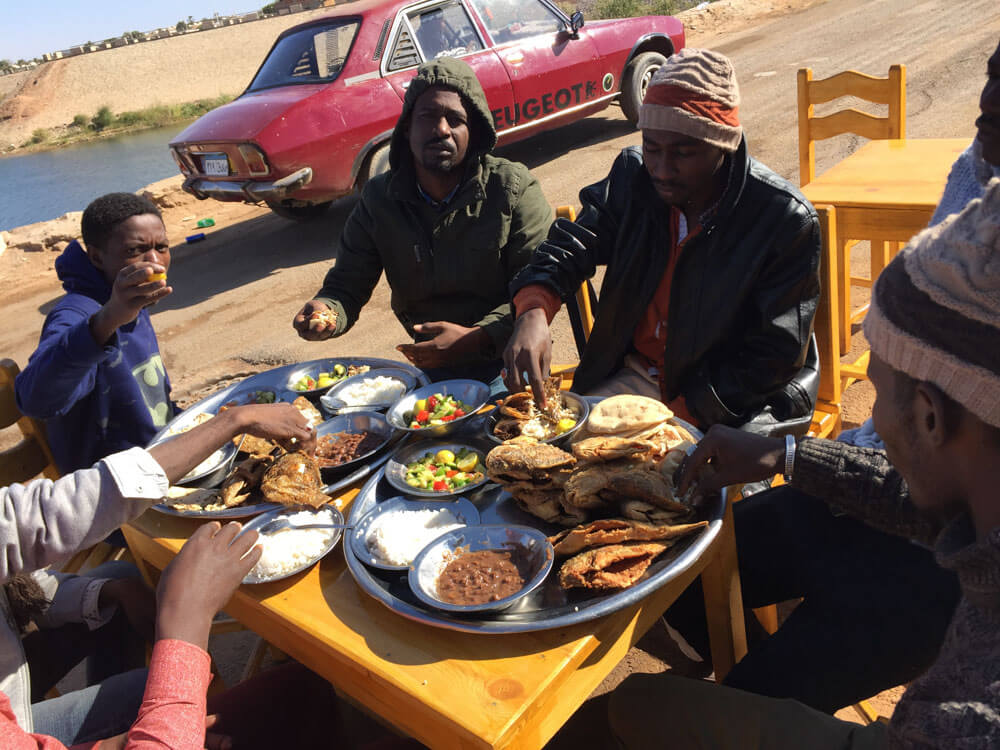 Lunch break with the locals in Abu Simbel
Step 4: The ferry to the border
After waiting for two hours, the ferries finally arrive. At this point, everybody goes crazy and chaos rules. The ferries are quite small, but they try to fit up to five buses in each of them. Definitely, the ferry is more than overloaded but, in the end, sailing along the Nile is a nice experience and a good opportunity to mingle and have fun with the locals.
Update October 2018 – Apparently, now you have to pay an additional fee for the ferry ride, which is 102EGP (6USD).
Time: 1-2 hours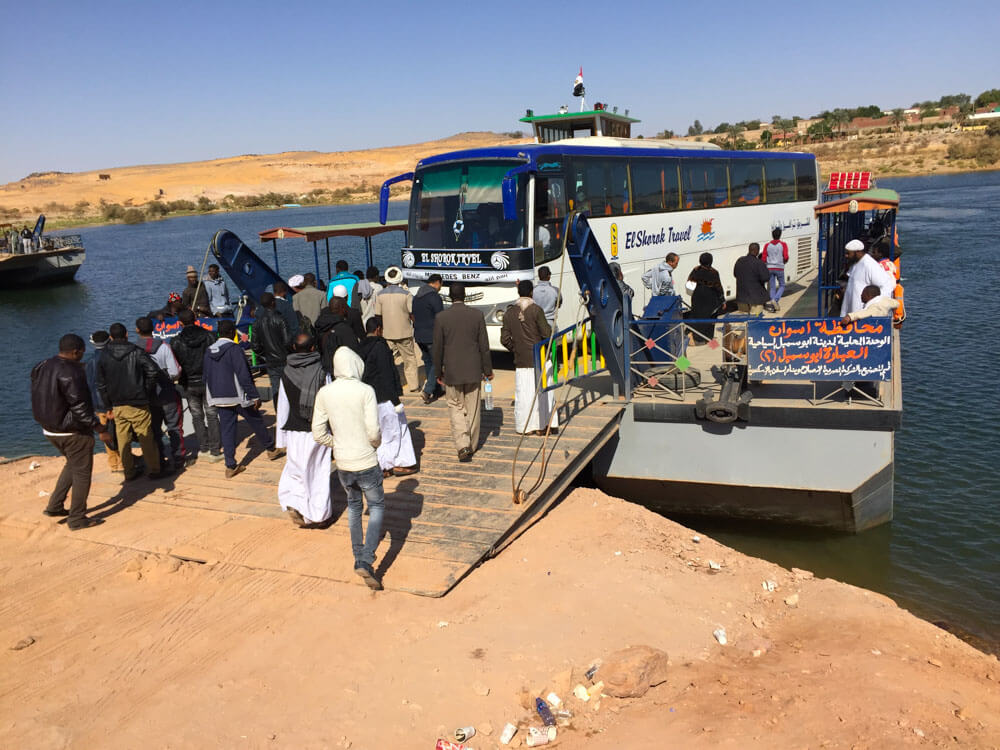 Overloading the ferry
Step 5: The Egyptian border
When you disembark, you still have a couple of kilometers before actually reaching the Egyptian border. Once you are there, you'll be asked to pay the exit fee (60EGP). Remember to bring some Egyptian Pounds with you or you'll have to exchange them at a very crappy rate. You can also pay in USD.
At this border, the bureaucracy takes forever. Due to the sensitive political situation and the increasing number of terrorist attacks, the Egyptian authorities want to check absolutely every single piece of baggage, with no exception. There are hundreds of Sudanese with thousands of suitcases, boxes and strange objects. You'll have a lot of free time. Just be patient and enjoy looking at all that chaos.
Time: 3-4 hours
Important! A traveler reported that, since he got his exit stamp very quickly, he managed to cross the border on a different bus, before the authorities finished to check with his actual bus. Because of all the Sudanese, who bring one thousand suitcases, you are going to stay here forever but you may have the chance to leave earlier on another bus. Ask your driver and the authorities.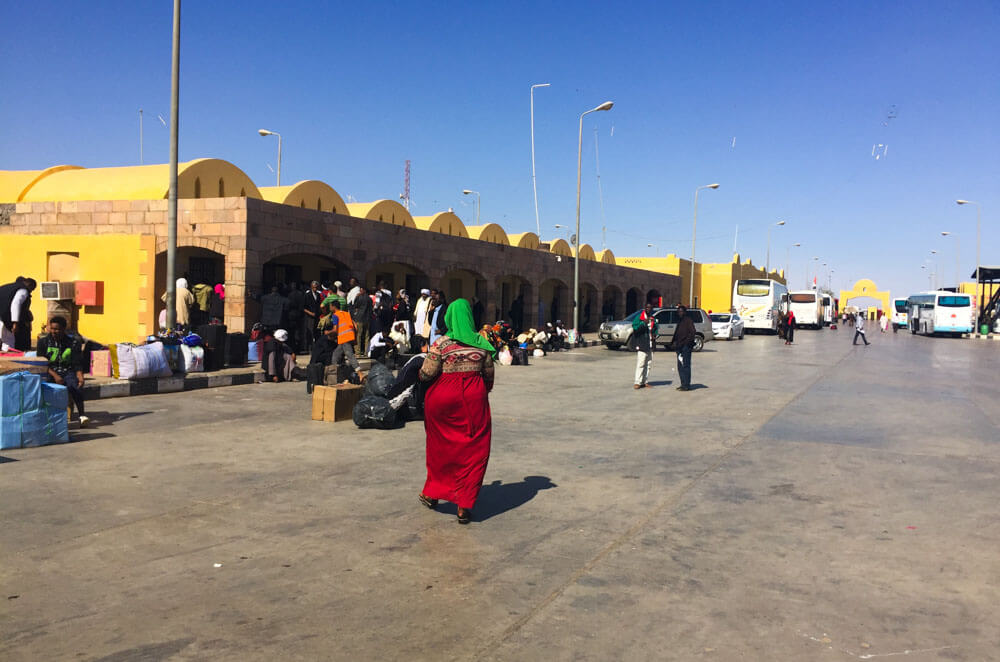 The Egyptian border
Step 6: The Sudanese border
Before the bus departed from Aswan, all those extravagant packs, washing machines and suitcases were carefully put inside the bus so, each passenger had a seat. Now, all those things were absolutely all over the place. When we arrived at the Sudanese border, the bus had to be unloaded once again and all the passengers had to go through the exact same process as before. Like at the Egyptian border, be patient and enjoy watching all that chaos.
Watch Out! The Sudanese authorities will ask you to pay 60SDP as for transport fees. It's a scam! They will insist over and over but you say NO, NO and NO! Tell them that you know other travelers who crossed recently and they didn't pay any extra tax. If you say this, they'll let you go.
Time: 3-4 hours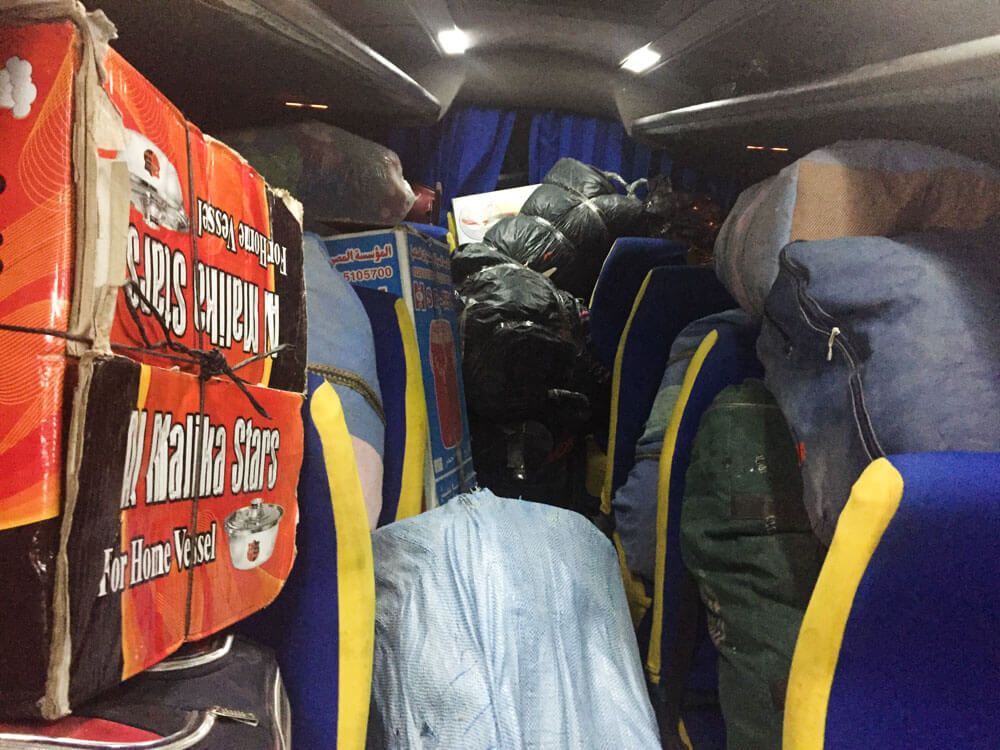 The extremely overpacked bus after the security check
Step 7: Arrival in Sudan and Wadi Halfa
You made it! After approximately 14h, finally, you find yourself in Sudan! Get ready to receive one of the warmest welcomes ever from the amazing Sudanese people!
Wadi Halfa is still 30 kilometers away from the border. All the passengers in the bus will spend one night in Wadi Halfa, as the bus won't continue to Khartoum until the next morning. Don't worry about finding accommodation. There are several extremely budget hotels. Typically, they have 5-bed dorms for 25SDP, which is less than $2. I stayed at Alneel Halfa. These hotels suck but you have to remember that you are in Sudan now!
Arrival at 7-8 pm approximately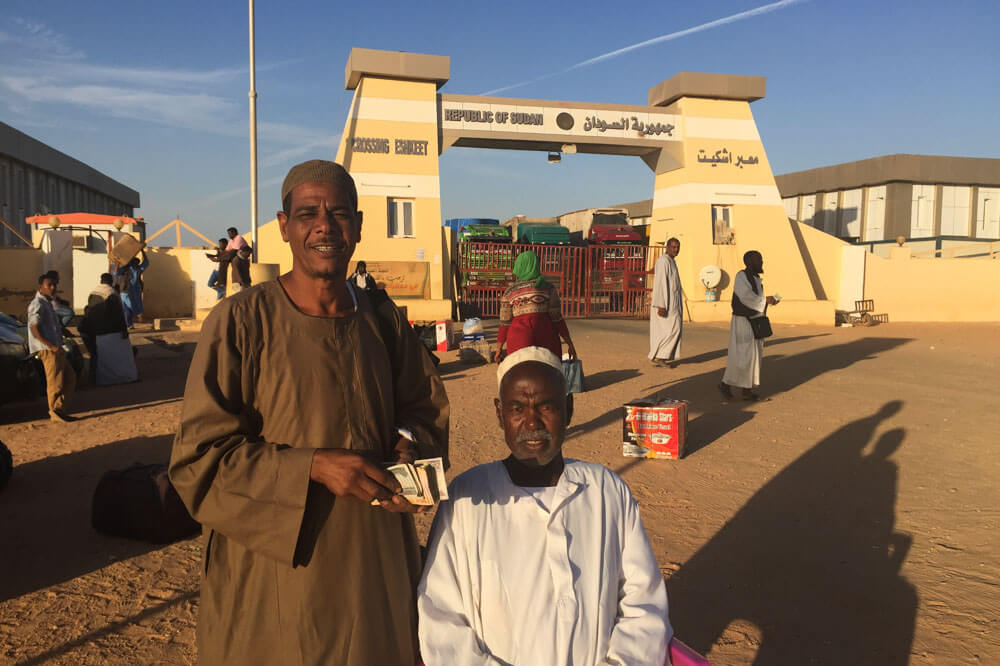 Finally in Sudan!
Step 8: Journey to Khartoum
If you booked a ticket to Khartoum, the journey will take 11-12 additional hours. At some point, around 1am, the bus will stop in the middle of nowhere and the bus driver will take a 2-3-hour nap. You should be in Khartoum around 10am in the morning. Tell the bus driver that you want to get out near Al Souq Al Arabi (Arabic Market) that's where cheap accommodation is found.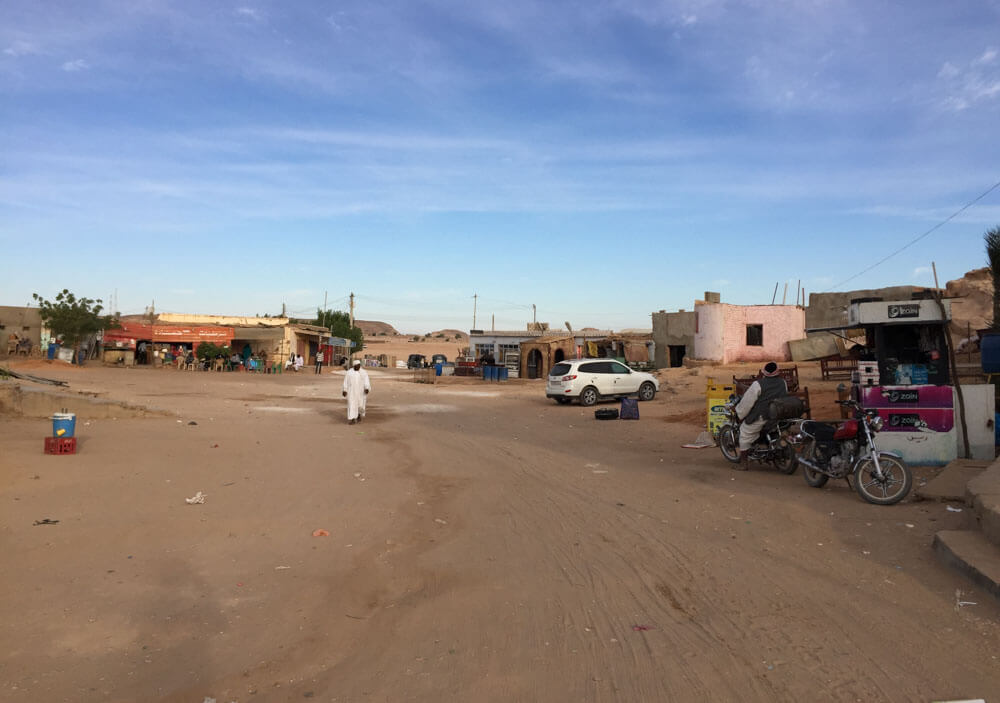 Wadi Halfa
Crossing from Sudan to Egypt by land
I personally haven't crossed the border from this direction but I got the latest information from some travelers who did it recently.
As you may imagine, you just need to follow the same reverse process and it takes the same amount of time.
First, you will have to go to Wadi Halfa. You can check my Sudan itinerary for directions, as well as all the places to visit in between.
The bus from Wadi Halfa to Aswan costs 250SDG.
When you leave Sudan, you need to pay an exit fee which costs 132SDG.
In Egypt, most Western nationalities can get a visa on arrival, which costs 130EGP or 25USD. This is the price if you enter overland and may vary significantly if you fly in.
If you have more updated information, let us know in the comments section!
Are you planning to enter from Ethiopia, instead? – Then you should read: Ethiopia-Sudan border crossing
More information for visiting Egypt
Don't forget to check our travel guide to Egypt.
As well as all our Egypt articles: