Peru is such a wonderful country to travel in. 
Cusco embodies European classiness while Lima is bustling and vibrant. Machu Picchu is full of enchantment while Huacachina mysterious and rare. Colca Canyon is stunningly vast while Arequipa is surrounded by volcanoes. But there is one characteristic each Peruvian destination has in common: heart. The Peruvian heart beats loudly and proudly, and I dare you not to fall in love with it, too.
In Peru, there's something for everyone, no matter the type of adventure you might be craving. 
The most recognizable Peruvian destination is Machu Picchu and let me just start by saying, yes, it's worth it. But there is so much to see in this bountiful country, so it would be worth your time and money to explore more than just one corner. I found getting around the country easy and cheap to do. 
Peru is on the modest side in the way of costs. Which is exciting because that means you can fit more in for less. 
I mainly stayed in guesthouses, and utilized the public transportation system, including flights, buses, trains, and taxis. Lima was the most expensive stop, with its pricier restaurants, hotels and nightlife, but outside of the capital I found costs to be more than reasonable. 
January, May and June are the busiest months of the year to visit Cusco. Aim to travel outside of these times so your money goes further. But if you find yourself in Cusco during the busy time, go anyway! 
La Ciudad Imperial, or the Imperial City, is a shining star in Peru. Situated in the Inca Region, and adjacent to the Urubamba Valley, this city is the main base for those looking for a Machu Picchu and Sacred Valley adventures. Yet, Cusco is an adventure all its own. The main square is dazzling with standout architecture framing dozens of restaurants, bars and coffee shops overlooking visitors snapping photos and milling about. It's easy to waste time exploring the cobblestoned streets of Cusco (I sure did!) but eventually you will want to make your way up to the famous mountain. 
The last stop on my trip was Huacachina. It's an oasis in the middle of nowhere resembling a slither of life where there appears to be none. It's stunning because it's peculiar. A small town consisting mainly of hotels, restaurant and bars surrounding a shallow oasis in the middle of sand dunes – It's a sight to see. 
If you're not pressed for time, the Gringo Trail hits all the right places across the country. Expect the journey to take two or more weeks (if you aim to hit all the spots). The famed path starts in Lima and follows the curve, stopping in Paracas, Huacachina, Nazca, Arequipa, Puno and Cusco. 
Today, I'm going to be sharing how much you can expect to spend on a trip to Peru.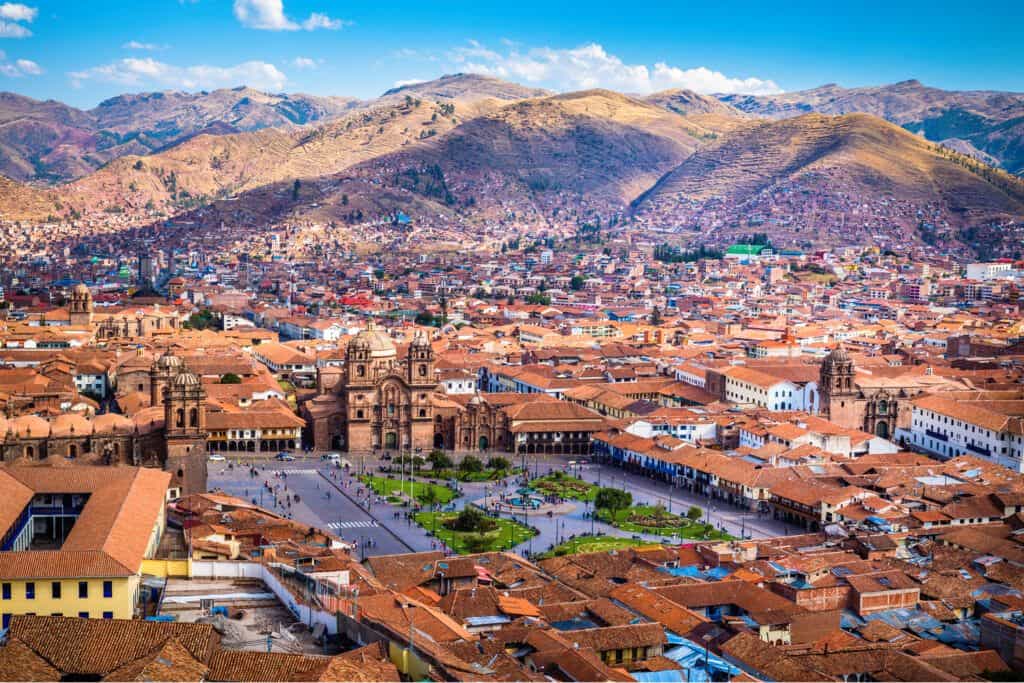 Cusco from above: how beautiful is this city?!
Peru's Gringo Trail: Where to Go
If you're starting to plan your trip to Peru and aren't quite sure where to go, you may find it useful to know that there's a ready-made route, set up for you to follow.
Allow me to introduce you to the Gringo Trail. It is, essentially, the main itinerary that most visitors follow around the country, taking you to the very best that the country has to offer. Most visitors will fly into Lima, then follow the route in a counter-clockwise direction over to Cusco. Here's a map: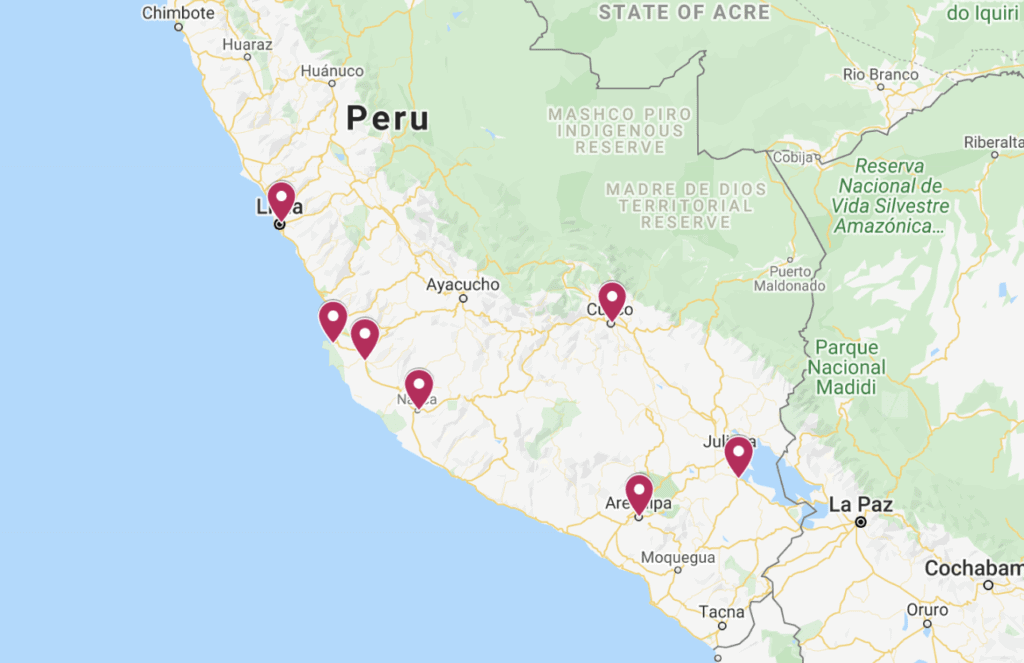 If you have two weeks to spend in the country, I recommend breaking up your time as so:
Day One: Lima
Day Two: Lima
Day Three: Paracas
Day Four: Paracas
Day Five: Nazca
Day Six: Huacachina
Day Seven: Huacachina
Day Eight: Arequipa
Day Nine: Arequipa
Day 10: Puno
Day 11: Puno
Day 12: Cusco
Day 13: Cusco / Machu Picchu day trip
Day 14: Cusco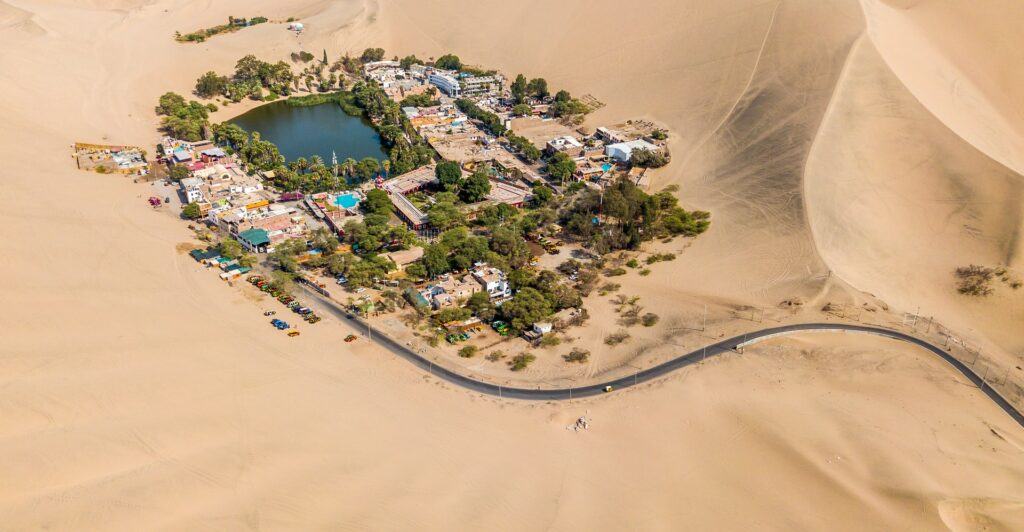 This is Huacachina: a desert oasis that's more than a little photogenic!
The Cost of Accommodation in Peru
You can visit Peru on any budget, from a $10 a night hotel in Cusco that's rated 9 on Booking to a spectacular $270 a night lodge on the shores of Lake Titicaca. Overall, though, I think you're going to be pleasantly surprised by the prices of lodging in Peru: it's inexpensive and high-quality.
In this blog post, I'm going to be focusing on value. Because whether you're travelling as a solo backpacker on a shoestring, as part of a couple on a mid-range budget, or as a family looking for a little luxury, value is the one thing you're going to be looking for. That doesn't mean cheap — it means offering up more than similarly-priced options.
There's some seriously great value accommodation up for grabs in Peru, so to start with, I'm going to cover the cheapest way to travel the country.
If you're on the tightest of tight budgets, there are several options that'll land you with free accommodation while you're in the country. Courchsurfing allows you to connect with locals by sleeping on spare sofas in their homes. It doesn't cost a penny to do so and is a fantastic way to gain an insight into Peruvian daily life away from the tourists. There are over 100,000 hosts in Peru, so there's sure to be someone who's right for you.
Housesitting is a more upmarket way to avoid paying for accommodation, as it's aimed at the mid-range and luxury travellers. You'll be looking after homes and pets while their owners are on holiday, and the houses can be extremely luxurious. This option works best if you don't have fixed travel dates, as you'll be agreeing to dates that the owners set.
Finally, when it comes to free accommodation, you could take a look at WorldPackers in Peru, where you'll be able to volunteer for locals in exchange for food and board. There are some seriously cool options available on the site, from helping out at a local surf school to lending a hand at building an eco-sanctuary in the rainforest. Readers of this site get a $10 discount for WorldPackers with the promo code neverendingfootsteps.
If you're not looking to travel for free and just want a clean and comfortable room to sleep in, there are plenty of great options, too.
One of the most affordable ways to explore Peru is by staying in a hostel. I stayed in several over my first visit to the country and was impressed by the quality of the hostels, as well as how many there are to choose from. Let's look at the best-reviewed hostels in the country.
The best hostel in Lima is easily Pariwana Hostel, where dorms are priced at just $11 per person, and private doubles come in at $39 per night. As an added bonus, it's right in the centre of Miraflores: my favourite neighbourhood in Lima!
In Paracas, you can't get better than Atenas Backpackers, where double rooms are priced at just $19 a night. In a town where most hostels are rated poorly, this well-reviewed spot is a no-brainer.
You'll likely be heading t
o Nazca while you're in Peru, and if so, I recommend Nazca Travel One Hostel, which has double rooms for $22 a night. Staff are friendly and can help you with booking your scenic flights, the breakfast is generous, and the rooms comfortable.
Huacachina is home to Banana's Adventure Hostel, where dorms are priced at $17 a night and doubles at $28 a night. No wonder it's the best-rated budget accommodation in town, as it's home to the most epic swimming pool. It's well-worth staying here while you're getting your oasis on.
What about Arequipa? Way Kap Hostel is the only place I'd consider staying. Not only is it inexpensive at $6 a night for a dorm, but the beds are comfortable, the rooms are slick and modern, and the staff so friendly.
And finally, Cusco, where you have to stay at Nao Victoria Hostel (dorms $11 a night; private doubles $40 a night). It's peaceful and laidback, right in the heart of town, and the staff can help you out with anything you need — including leaving your backpacks with them while you hike Machu Picchu.
Overall, then, you can see that you can expect to spend around $10 a night for dorms in Peru, and around $20-40 a night for a private double room.
Okay, but what if you're not a budget traveller and just want to stay in a lovely, well-reviewed hotel or guesthouse that's good value for money and has all the things you need from a place to lay your head? I've got you! When I visited Peru, I opted to spend half of my trip staying in backpacker hostels and the other half in well-reviewed guesthouses. For around $60 a night, you'll be able to stay in an excellently-reviewed hotel, in a central location with friendly staff.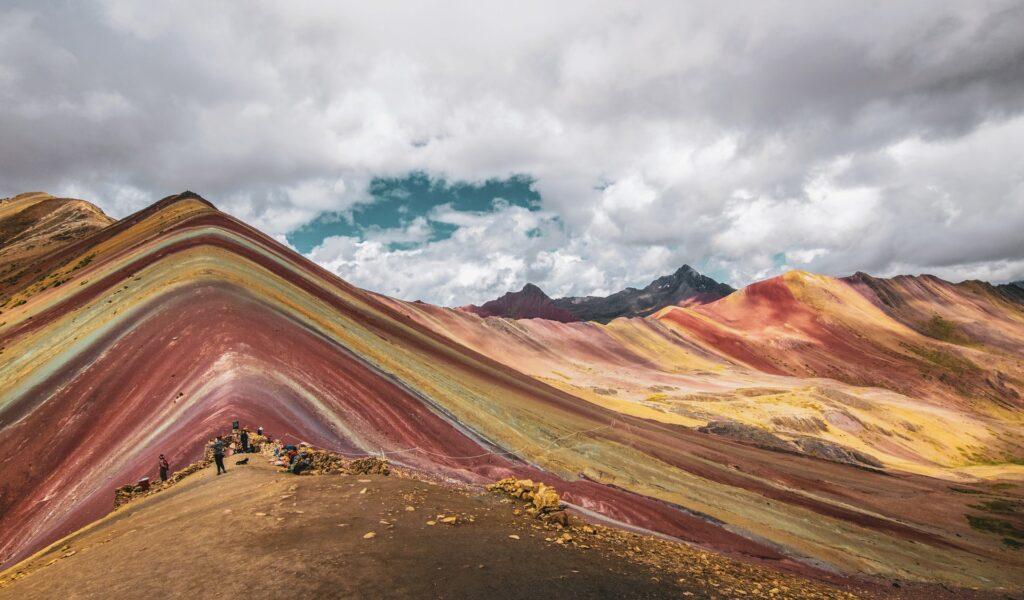 Rainbow Mountain, just outside of Cusco. If you have enough time to day-trip out here, it's well-worth it!
Where to Stay While Traveling in Peru
When I'm travelling, I'm always conscious to book the absolute best accommodation out there — well, as long as it doesn't amount to hundreds of dollars a night. I can easily spend several hours researching accommodation for every stop along my way, ensuring I've chosen the place in the best location with the friendliest staff, and the greatest value for money.
My biggest tip? When you head to Booking to find a hotel, ignore the results that are sorted under "Our Top Picks" — that's a list of all of the hotels that pay Booking the highest commission, some of which have some pretty poor write-ups. Instead, opt to sort the properties by "Top Reviewed". That way, you'll be able to see which options genuinely have the best reviews.
But all that to say, when I was planning my trip to Peru, I put in the hard work so you don't have to. Here's where I recommend staying:
Lima: Ana Frank Hospedaje ($70 a night for a double room) — Kick-off your Peru trip with the best-rated hotel in town! Ana Frank Hospedaje is the most beautiful property with the loveliest owners ever. Ana and Frank will take you into their home, welcome you, and have you feeling like you're family. The hotel is right in the heart of Miraflores — my favourite neighbourhood — yet still quiet and peaceful, so you can sleep. The rooms themselves are clean, large, and comfortable, and the shower pressure some of the best you'll encounter in Peru.
Paracas: Casa Paracas (108 a night for a double room) — This is a lovely spot, a block back from the beach, close to the main square, with easy access to the boat tour companies and best restaurants in town. The owner, Francisco, is a gem, whipping up excellent breakfasts in the morning, arranging tours for you throughout the day, and even picking you up from the bus station so you don't have to walk. With a beautiful view of the ocean from the property, this makes for a wonderful stay in Paracas.
Nazca: Casa Hacienda Nasca Oasis ($65 a night for a queen room) — Nazca isn't the nicest of areas in Peru, but if you're keen to see the Nazca Lines, it's inevitable that you'll end up spending one night in town. Still, Casa Hacienda is the best option out there for travellers, with a peaceful garden, large swimming pool, and helpful staff. Just ask at reception and they'll be able to help you arrange safe onward travel, book a tour to see the Nazca Lines for you, and help you explore the archaeological sites in Nazca that are often overlooked.
Huacachina: The Upcycled Hostel ($31 a night for a double room) — It's all about the vibes in this hostel, as the place is full of the coolest, colourful decorations — all upcycled, of course. It's in a great location, too, within walking distance to the dunes, but not directly in the party zone, so it's still peaceful. You also get access to a good-sized swimming pool and some of the best food in the country. Join in with cocktail-making classes, salsa lessons, or simply chill in the beautiful garden. In a place that seems to attract uniformly poor accommodation options, the Upcycled Hostel is easily the best option in town, no matter your budget.
Arequipa: Las Torres de Ugarte ($50 a night for a double room) — This is such an adorable hotel, right in the heart of everything you'll want to see in Arequipa. The breakfast is fantastic, the rooms are large and spotless, and the owners so sweet. As an added bonus, you'll have access to the rooftop terrace, which overlooks the city and offers some seriously special views.
Puno: Uros Waliski Lodge ($85 a night for a double room) — I suspect just looking at the photos on the Booking listing will be all it takes it have you committing to stay here. And if the photos don't? Well, I'd be very surprised. This is a once-in-a-lifetime experience; the opportunity to stay on a peaceful island away from all of the Puno day-trippers, experiencing a slice of authentic local life. As an added bonus, all of the excursions on the lake are free! They're included in your room price. Honestly, this is one of the most wonderful places on Lake Titicaca.
Cusco: MOAF Cusco Boutique Hotel ($60 a night for a double room) — There's a reason why this hotel is the top-rated in all of Cusco. It's due to the location, which is close to all of the markets, restaurants, and tourist attractions. It's due to the friendly staff who go out of their way to ensure you have the best trip ever. It's due to the ability to easily book all of your tours through them, whether you want to hike to Machu Picchu or see Rainbow Mountain. And it's due to the delicious, filling breakfast. I wouldn't consider staying anywhere else in Cusco.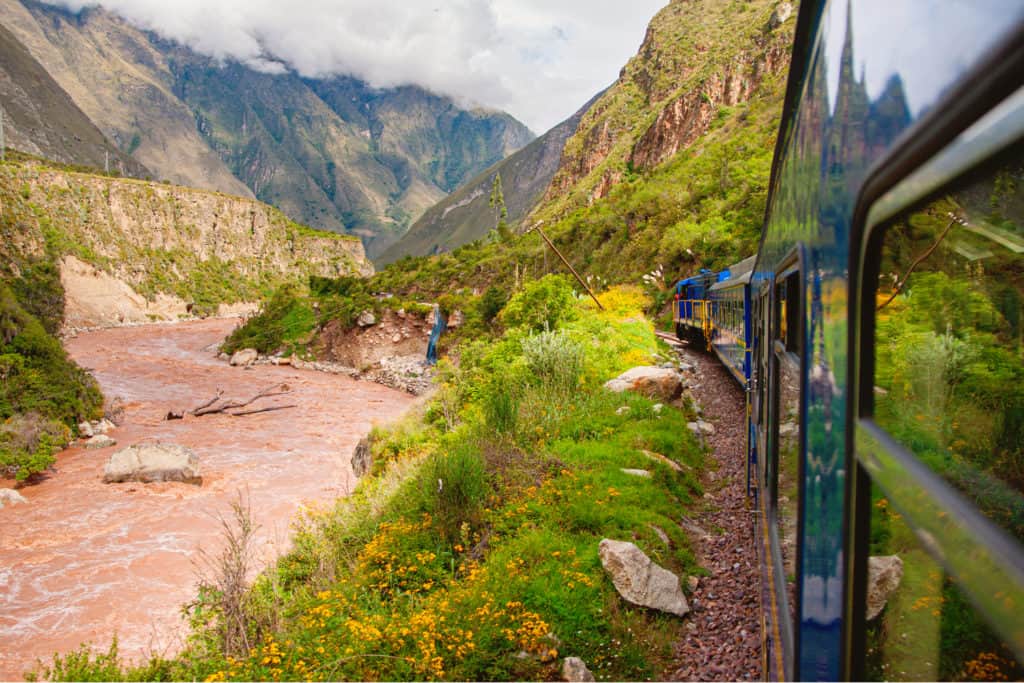 The Cost of Transportation in Peru
Travelling across Peru is super-easy, and there are tons of options to help you do so. While I was in the country, I used planes, buses, trains, colectivos, and taxis, and loved getting to experience such a diverse range of transportation.
If you're short on time, it's worth taking a look at the offerings from domestic airlines, like LATAM, as sometimes flights within Peru cost the same as the buses. As an
example, I paid just $38 for a flight from Cusco to Lima, at the end of my trip, skipping the 22 hour[!] bus trip and paying just an extra $14 to do so.
If you're not in a rush and really want to see as much of Peru as possible, you'll be impressed with the country's extensive bus network. I recommend Tepsa and Cruz Del Sur as the best bus companies for visitors to Peru, (Tepsa is a bit cheaper), as both are safe and reliable options. I found both of these companies to be cheaper than the alternatives, like Oltursa, and they were so much easier to navigate during the booking process. 
So much can you expect to pay when bussing your way around the country? In 2022, you'll be looking at the following:
Bus from Lima to Cusco with Tepsa: $16
Bus from Lima to Arequipa with Tepsa: $15
Bus from Lima to Cusco with Cruz Del Sur: $24
Bus from Cusco to Ica with Cruz Del Sur: $23
Bus from Lima to Ica with Cruz Del Sur: $5
Not bad, right?
When you're not travelling from city to city, you'll most likely utilise the country's taxis, and yes — Uber is available in Peru.
When hailing a taxi on the street, make sure you agree on a price point before getting in the cab, or make sure the meter is on. And prepare to have an argument over that, as you do in basically every country around the world.
Colectivos (shared taxis) are another option for saving money, and one we utilized often. These colectivos can be a car, bus or minibus, and you can hail them pretty much anywhere in the country. They charge a set fare and are often waiting at popular destinations until they have a certain number of passengers.  
The Tren Eléctrico, or the Electric Train, in Lima is a terrific choice for travel within the city's limits, with multiple lines linking various sites and districts. You can expect to pay $1.80 for a card that you can use between stations (costs between stations vary) and then reload when needed.
When it's time to venture outside of Lima, you have plenty of options. 
If you're not pressed for time, the Gringo Trail hits all the best spots across the country, and most travellers opt to follow its route. This famed path starts in Lima and offers up stops in Paracas, Nazca, Huacachina, Arequipa, Puno, and Cusco. Expect the journey to take two or more weeks (if you aim to hit all the spots) but if you opt for a quicker expedition, you can see the main destinations within a week. Have three weeks? You'll be able to go slower and ensure you see it all without rushing.
So, what's the easiest way to traverse the Gringo Trail?
Peru Hop is an awesome company (and concept!) for all of my backpackers out there! They offer the flexibility, convenience, and safety of an upscale tour company but with a decent price tag. A three-day trip across the Gringo Trail starts at $159 and includes a six-stop hop-on hop-off pass, pick up and drop off at hostels, an on-board Peruvian guide, free access to various sites along the route, and more. Seriously, you get so much for your money with Peru Hop, especially as they squeeze in many attractions most tour companies brush past.
Getting to Machu Picchu from Cusco was an adventure! This was the only time I used a train during my Peruvian travels, and it happened to be one of my best ever experiences. The ride is like a dream, surrounded by endless greenery, raging waters, and sharp cliff-sides. 
PeruRail runs from Cusco/Ollantaytambo to Machu Picchu for $38. Keep in mind there are bundled options, some guided and some self-guided, that get you to Machu Picchu for a flat price. If you're not a hiker, taking the train to Machu Piccho is an experience that can't be missed.
The average cost of transportation is: $17 per day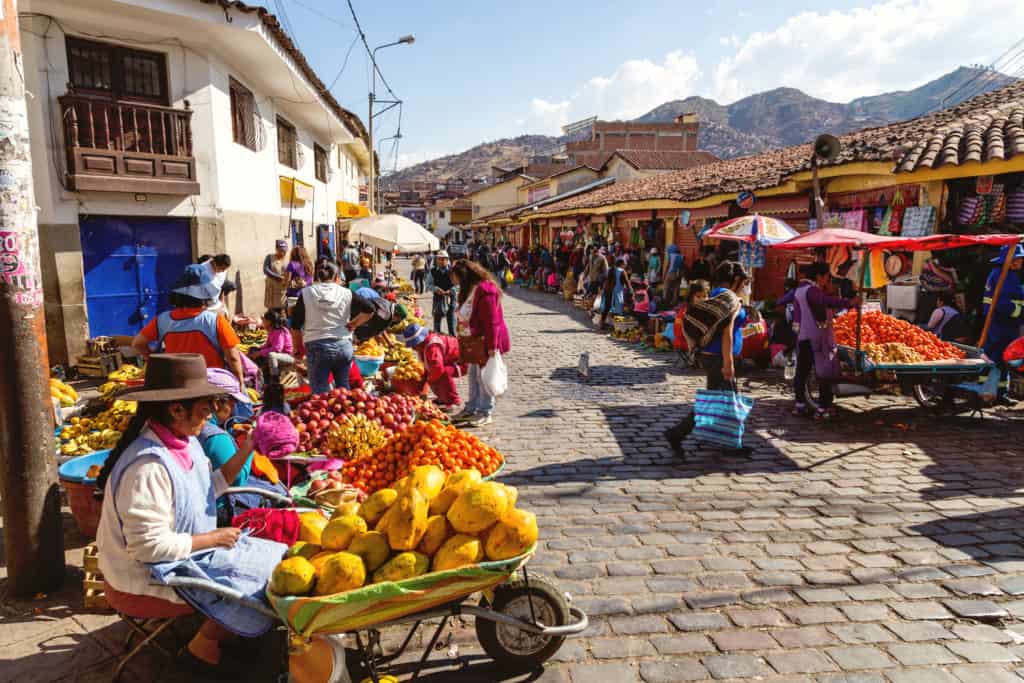 The Cost of Food in Peru
Peruvians are food geniuses, with a heritage influenced by Spanish, Asian, Italian, and African regions, all blended together in order to create a unique culinary identity. They have perfected the art of contrast within a plate, often mixing hot with cold and sweet with savory. 
Eating out in Peru is an inexpensive way to sample the local delights, so there's little reason to cook meals yourself. A typical breakfast includes bread and butter with ham or jam, as well as seasonal soups and coffee or tea, and averages just $3. 
Lunch is kind of a big deal here, so much so that its time dictates business hours. Plan your midday meal to take place between 1 and 3 p.m., and prepare to work your way through a starter, main course, drink, dessert, and a siesta. Did I mention I love this country? Lunch will set you back $6, and dinners are similar in cost, depending on your splurge level, but you can expect to between $5 and $10. 
Ceviche, or Peruvian sushi, is the most iconic dish in the country and typically includes sea bass, lime, and various spices. Think of ceviche as Peru's food mascot, but it's not the only dish on the menu. Lomo saltado (stir-fried beef), papa a la huancaina (creamy, cheesy and spicy potatoes) and pollo a la brasa (rotisserie chicken) are all staples you should sample while you're in the country.
Having said that, I practically ate ceviche for breakfast, lunch, and dinner with zero complaints. 
In the bigger cities like Lima, Arequipa and Cusco you'll find an increase in prices for these dishes. For example, ceviche prices throughout the country range from $3 to $15 while lomo saltado goes from $2 to $11. Pollo a la brasa ranges from $2 to $5. 
Street grills are common in Peru, but you'll find they're more abundant in smaller towns and villages. You can get chorizo, marinated chicken breast, or a hunk of cecina for a mere $1.50, so if you're backpacking around the country, this is an affordable way to stay full.
Pisco sours are a way of life when it comes to alcoholic beverages in Peru. Delicious, but tart, the drink flows in all regions in many different forms. If you're not into sour drinks, order a pisco on the rocks, it's most similar to tequila in taste. Pisco cocktails go for about $6. 
Vino in Peru is not revered as top notch, however Vista Alegre offers a respectable selection for the – practically free – price of $1 per bottle. while Tacama's wines are around $7 a bottle. If you fancy yourself a wine buff, check out an international blend from Argentina or Chile instead. Beer is cheap in Peru. A large bottle will put you back $1.30. Look out for popular Peruvian brews, Pilsen Calloa and Cristal.  
The average cost of food in Peru is: $18 per day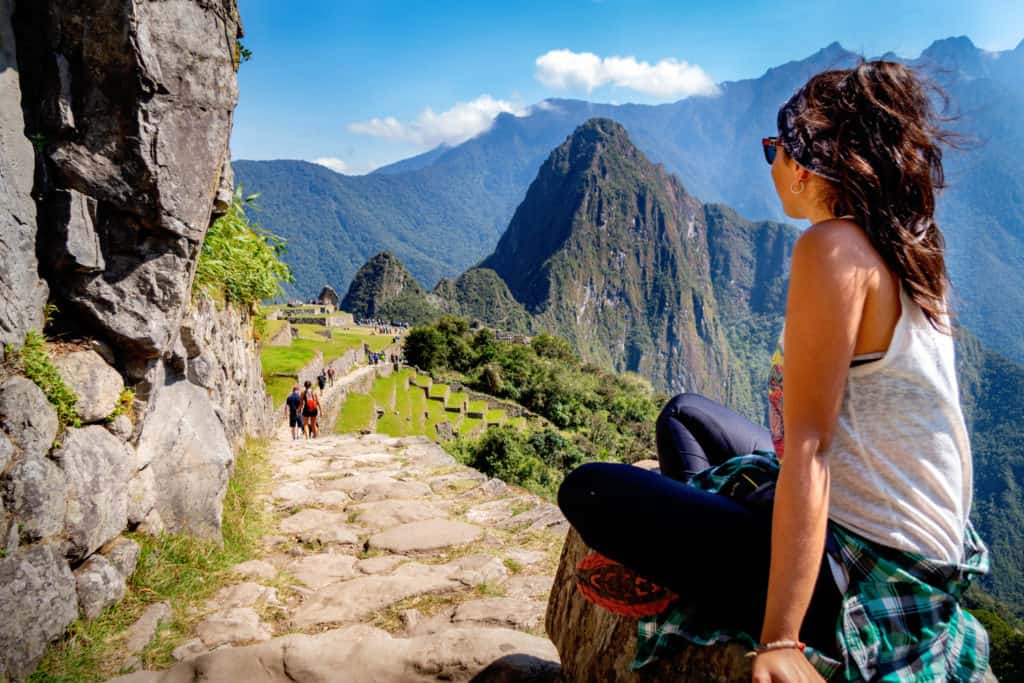 The Cost of Activities and Entrance Fees in Peru
Whether you love the beach, the mountains, or the rainforest, Peru has something for you.
Machu Picchu is, of course, the country's national treasure, and world-famous for a reason. No matter how you choose to get there (hike, bus, train) you'll need to devote at least a day to the excursion. I left at 4 am from Cusco and arrived back around 9 pm that same night, paying $38 for the train. It's a long day but worth every step of the trek.
Sandboarding in Huacachina was a tumbling adventure. The rolling dunes are photogenic, inviting, and surprisingly soft — just in case you take an unexpected
dive. For $15, our tour took us out for a half-day trip in the desert, which included transportation in a buggy and hours of shredding the sand.
What if you don't have much cash to splash?
Hiking is the perfect way to see more of the Peruvian landscape, and you don't have to spend a penny to do so. Colca Canyon is often overshadowed by Machu Picchu, but it's ample in trails and thick with stunning terrain and steep canyons. If you're up for the challenge, try the descent into Colca Canyon from the Cruz del Cóndor lookout — trust me, it's unbelievable.
Get Your Guide is one of my favourite travel websites — it helps you filter through all of local tour companies to find the cheapest and highest-rated experiences, without having to spend hours trawling through TripAdvisor and forums. I book all of my tours through them these days, and can't recommend them enough.
The average cost of activities in Peru comes to $36 per day.
The Cost of Travel Insurance in Peru
Travel insurance: If you've read any other posts on Never Ending Footsteps, you'll know that I'm a great believer in travelling with travel insurance. I've seen far too many GoFundMe campaigns from destitute backpackers that are unexpectedly stranded in a foreign country after a scooter accident/being attacked/breaking a leg with no way of getting home or paying for their healthcare. In short, if you can't afford travel insurance, you can't afford to travel.
Travel insurance will cover you if your flight is cancelled and you need to book a new one, if your luggage gets lost and you need to replace your belongings, if you suddenly get struck down by appendicitis and have to be hospitalised, have your camera stolen and need to buy a replacement, or discover a family member has died while you're overseas and now you need to get home immediately. If you fall seriously ill, your insurance will cover the costs to fly you home to receive medical treatment.
I've used World Nomads as my travel insurance provider since 2012 and have nothing but wonderful things to say about them.
I've made two claims with World Nomads (once when my partner broke his brand new phone in Thailand, and World Nomads paid for the repair cost, and once when crashing a rental car in New Zealand, when World Nomads paid out the full $1,500 to repair the front bumper with no excess or fees to pay from my end) so feel comfortable recommending them to you.
For us? The cost of insurance for two weeks in Peru was $5 a day travelling as a couple – $2.50 each.
How Much Does it Cost to Travel in Peru?
With all of that being said, it's time to tally up all of my travel expenses in Peru, in order to give you an idea of how much you can expect to spend while travelling in this wonderful country:
Accommodation: $37 per day
Transportation: $17 per day
Food: $18 per day
Activities: $36 per day
Total amount spent per day: $108 
Planning a Trip to South America?
I have a bunch of budget breakdowns for South American countries for you to peruse:
And don't forget to check out The Cost of Travel, well, Everywhere: my master list of detailed expense reports, covering the cost of visiting over 50 countries around the world!
Related Articles on Peru
🇵🇪 23 Fantastic Things to Do in Lima, Peru (2022)