China is currently going through one of the most significant
power outages in a decade. By September 28, 22 provinces have
experienced different degrees of load shedding measures. For a
nation that has largely maintained power supply security during two
decades of robust growth, it is astonishing to see that nearly
two-thirds of the country are suffering from power shortage – and
not during summer or winter peak demand seasons.
Tight fuel supply constraining thermal power
generation
So far 12 provinces have identified coal supply shortage as the
key reason behind for power rationing or rolling blackouts. In the
three provinces in northeast China—Liaoning, Jilin and
Heilongjiang, in particular, even residential power usage is
affected, a rare occurrence for a country putting household energy
supply in a prioritized category. For most provinces, industrial
power rationing remains the key measure.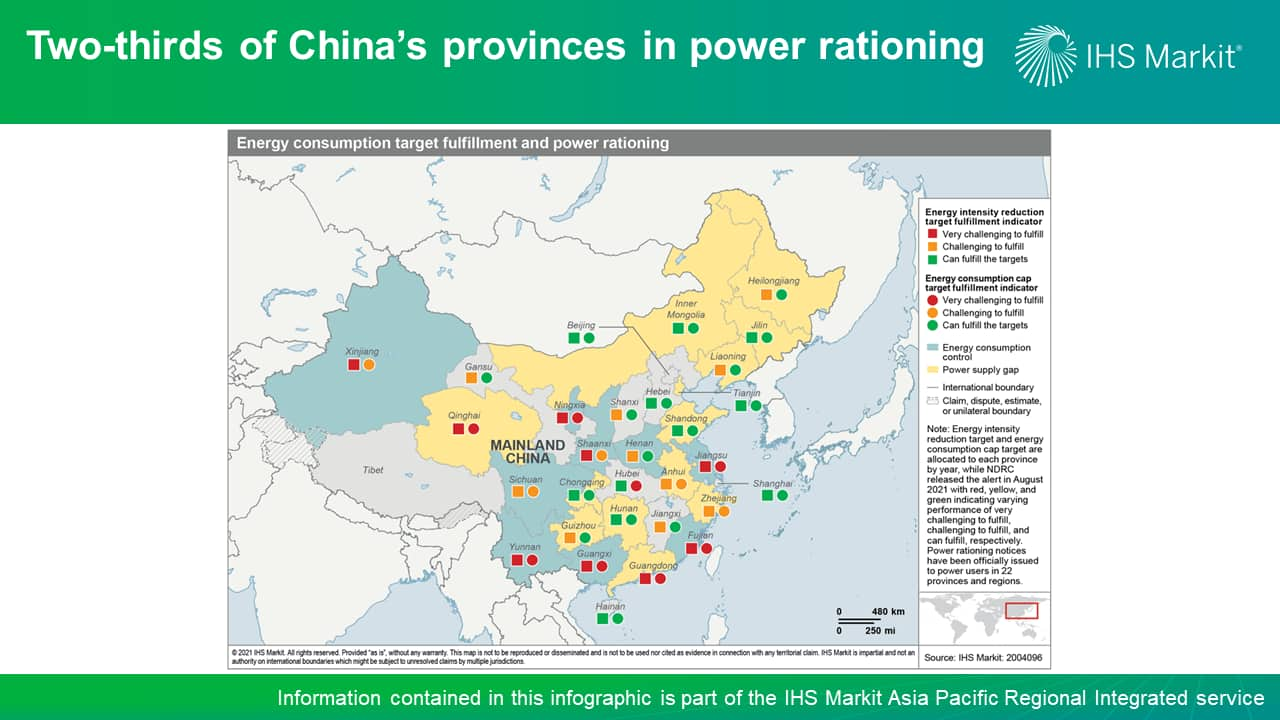 For these 12 provinces, shortfall in coal-fired power generation
– stemming from fuel shortage and skyrocketing coal prices – is a
chief cause for power outages.
By September 2021, thermal coal price is reported to have
tripled from a year ago. Meanwhile, policymakers have demanded
coal-fired power tariff to remain on par with on-grid benchmarks,
which were calculated during much lower coal price periods.
Although policy change a few days ago approved 10% increase from
the local benchmark power price in a number of provinces, this
price hike will only have marginally reduce the losses made by
coal-fired power generators. This disconnect between market-based
coal prices and tightly regulated power prices has led to power
supply disruptions in the past, especially when coal prices were
high.
A series of supply shocks are attributable to the coal price
surge. Domestic coal supply disruption started from the
anti-corruption campaign in Inner Mongolia last year, followed by a
few rounds of heightened safety inspections and environmental
checks.
In addition, under new production regulations, it is now illegal
for coal miners to produce beyond their approved nameplate capacity
– a practice that had been allowed previously. Coal imports have
also been weakened by floods in Indonesia, the import sanction on
Australia, as well as new Covid-19 outbreaks in Mongolia.
It is challenging for gas to ramp up to fill the gap for
coal-fired power, given the low share of gas in the capacity mix
and the high fuel costs. Gas accounts for 4% of the total power
generation capacity nationwide, compared with 49% for coal. Even in
the province with the largest gas-fired power fleet—in
Guangdong, gas represents 20% of the capacity mix as opposed to 46%
for coal. Going to the spot LNG market to procure additional supply
for incremental gas-fired power generation also means even a
heavier loss than that by coal-fired power at the current fuel
price levels.
In addition to fuel supply shortage, Guangdong's insufficient
power capacity presents a double whammy. China Southern Power Grid
recently disclosed that Guangdong's supply gap reached 7 GW during
the most recent electricity crunch, around 5% of provincial peak
load, taking into consideration of schedule and unscheduled
maintenance, grid congestion, fuel shortage etc.
Liaoning's official remark seems to provide an alternative
explanation. Wind power was blamed as the root cause of rolling
blackouts for residential power users during September 23-25.
However, compared with local thermal power and electricity imports
from other provinces, which accounts for 59% and 15% in total power
supply, respectively, wind power plays a much smaller role with a
share of less than 8%. Moreover, before the unscheduled rolling
blackouts, Liaoning already applied scheduled power rationing to
industrial users for nearly two weeks, triggered by an abrupt
decline of imported thermal power from Inner Mongolia, its
neighboring province which is also experiencing power shortage. By
nature, wind power as a variable renewable power source, is rarely
considered dependable capacity or flexible peaking source in
dispatch planning.
Multiple provinces applied power rationing as an energy
consumption control measure
"Dual-control" to put limits on overall energy consumption and
reduce energy intensity is a key measure that the Chinese
government implemented to help meet its climate goals. Each
province is subject to two targets, i.e. an energy consumption cap
and a decline in energy intensity of GDP, through the five-year
plans. For the year 2021, the national target is for energy
intensity to decline by around 3%, which is then broken down to
provincial targets and assigned to the respective governments.
However, stronger-than-expected industrial recovery from the
pandemic combined with heatwaves in some regions drove China's
power demand growth to 10-year high to 17% during the first half of
the 2021.
Meanwhile, to help stimulate economic recovery, governments also
loosened control over many power-intensive industries since last
year.
As a result, more than two-thirds of China's provinces missed at
least one of their respective "dual control" targets during the
first half of 2021, according to an alert released by the National
Development and Reform Committee (NDRC) in August 2021. This was
less than a year after the President Xi Jinping made major pledges
at the United Nations and a few months before COP26 in Glasgow.
Following NDRC's alert, the underperforming regions started to
apply power rationing measures in September, hoping to meet their
annual targets.
How long will the electricity crunch last and will it
recur in the longer term?
The "dual-control" measures have been and will continue to be a
sustained policy for China to meet its climate goals and to help
with its economic restructuring towards new sectors that are less
energy intensive.
Although we don't expect the strict and sudden power rationing,
driven by dual-control measures, to go beyond the end of 2021, the
investment in energy-intensive and emission-intensive industries
will likely be curbed nationwide in the long run, in line with
China's decarbonization ambitions.
The government's drive to boost domestic coal production aims to
gradually improve supply in the next few months, though any
incremental production will most likely fail to match the increased
winter coal demand. Additionally, an uptick in mine safety
inspections ahead of the Beijing Winter Olympics have the potential
to result in even further supply disruptions. Demand for coal is
set to rapidly grow in the upcoming weeks as Northeastern Chinese
heating season begins on October 15th followed by the rest of
Northern China on November 15th.
Therefore, the current coal shortage and power supply gap is
expected to persist and likely worsen. This will also exacerbate
power plants' current restocking difficulties. Coastal power plants
are already struggling to maintain ten days of coal supply compared
with an average of eighteen days coal supply during the same period
in 2020.
Even as the fuel shortage problem is resolved, power shortage
risk remains in the mid-term. China's power demand still rising
while the load becoming peakier, strict restrictions on coal fleet
expansion and rapid growth of intermittent renewables further
decrease system reliability. This will make firm and flexible power
sources more valuable in the system, creating potential
opportunities for flexible generation resources such as gas-fired
power and energy storage, but how fast both can scale up in the
next few years remains to be seen given the profitability
uncertainty.
Learn more about our Asia Pacific energy research with a climate
and sustainability focus.
Lara Dong, senior director, IHS Markit, leads Greater
China power and renewables research and is a member of Asia's
research and consulting team.
Chengyao Peng is a director at IHS Markit and a member
of the thought leadership group in global power and renewables,
with a focus on Asia Pacific and China, in particular.
Choon Kiat William Chia is a research analyst with the
Greater China power and renewables team at IHS Markit.
Posted on 28 September 2021
Follow IHS Markit Energy