It's pretty likely that this post contains affiliate links. If you make a purchase through them I will receive a small commission, at no extra cost to you.
Looking for the best places to stay in Milan? You just found them!
Milan, also known as the global capital of fashion and design, is a perfect holiday destination! I'm originally from Milan, so I'm a little biased when I say that it's a really great city that you have to visit.
Not only will you experience fashion and technological innovation, but you'll get the chance to explore some beautiful historical sightseeing locations around the city.
Everyone wants something a little different from their holiday, but luckily Milan can cater to every taste. The diverse areas all over Milan can offer completely different experiences for a diverse range of travellers!
Regardless of your travel style and personal taste, I've put together this insiders' list of the best places to stay in Milan for every kind of traveller.
So what are you waiting for? Let's dive in and find the perfect place to stay in Milan for you!
Best areas to stay in Milan at a glance
The best area to stay in Milan, Italy, highly depends on what kind of experience you'd like to have!
It's always best to choose a Milan location near to the sightseeing points of interest, or activities you'd like to take part in, although the transport systems in Milan work like a dream.
The best way to get around Milan is by bus or tram. There is a very efficient overground network of bus and tram routes that can get you practically anywhere in the city.
The metro and train systems are also very reliable and make for a great way to get around the city.
While I've never stayed in a hotel in Milan, I can make suggestions on what areas of Milan are most convenient, and recommend hotels that some of my friends have stayed at.
Here are the best places to stay in Milan for every kind of traveller, as suggested by a local.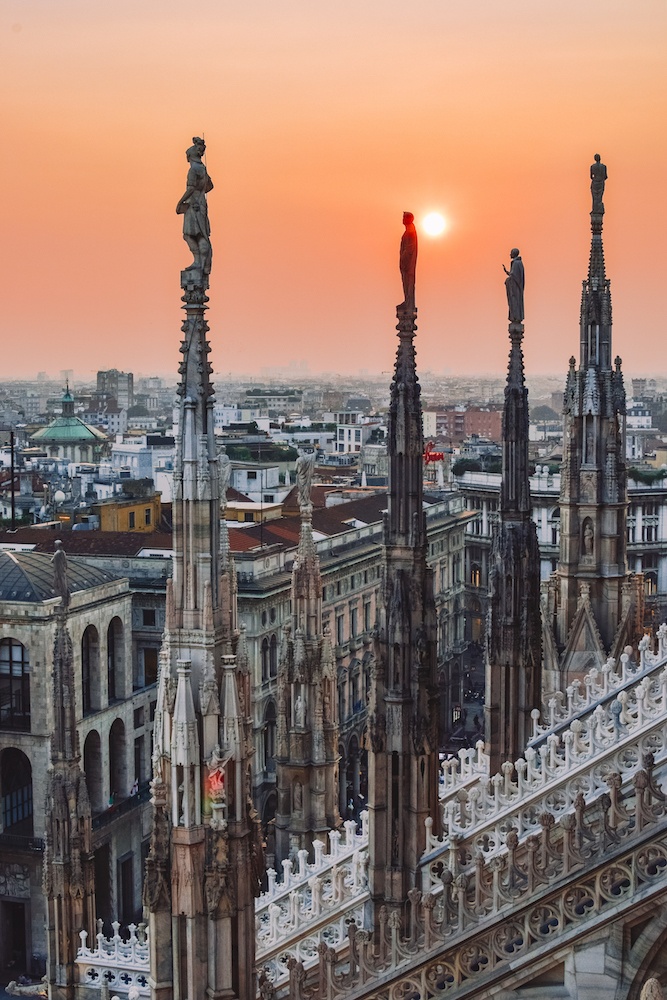 Before we dive into my hotel suggestions, I wanted to give you a rundown of all the best neighbourhoods to stay in Milan, and for what type of traveller each area is best suited for.
Isola – The new upcoming area of Milan, where lots of trendy bars and restaurants are located, perfect young travellers.
Navigli – The canals of Milan, another trendy and upcoming area, with plenty of bars, restaurants and clubs for young travellers searching for nightlife.
Brera – Super central, a historical neighbourhood in Milan, prices are higher but it's perfect for first-time visitors, as it's so close to everything.
San Siro – Not so central, in a more residential area of Milan, very green surroundings, perfect for families looking for a quiet getaway.
Arco della Pace – Very central, close to all the attractions of Milan, but also a very green area as its next to Parco Sempione. Perfect for families who want quiet, but also a central position.
Corso Buenos Aires – One of the main shopping streets in Milan, the perfect place to stay for shopping trips! Also very close to central Milan for sightseeing.
Porta Venezia – A central neighbourhood, close to shopping streets, bars, restaurants and a relaxing park. Perfect for couples who want a relaxing getaway.
Best places to stay in Milan for young people
Young travellers tend to enjoy a thriving nightlife and the hustle and bustle of the parts of Milan that never sleep.
There are a few go-to areas for young people travelling to Milan, that have become popular destinations because of their 24/7 activity.
Known as Isola, the whole neighbourhood from Garibaldi Station to Viale Zara, is the upcoming trendy area of Milan, perfect for those who want to explore Milan at night.
My grandma lives close by and whenever I'm in Milan I always go out for aperitivo and drinks around Isola. Isola is a post-war neighbourhood and used to be a residence for the local factory workers.
At the turn of the last century, Isola saw an influx of creatives, street artists and alternative locals looking for somewhere a little different.
It has slowly become the creative hub of Milan, and one of the most vibrant neighbourhoods in the city!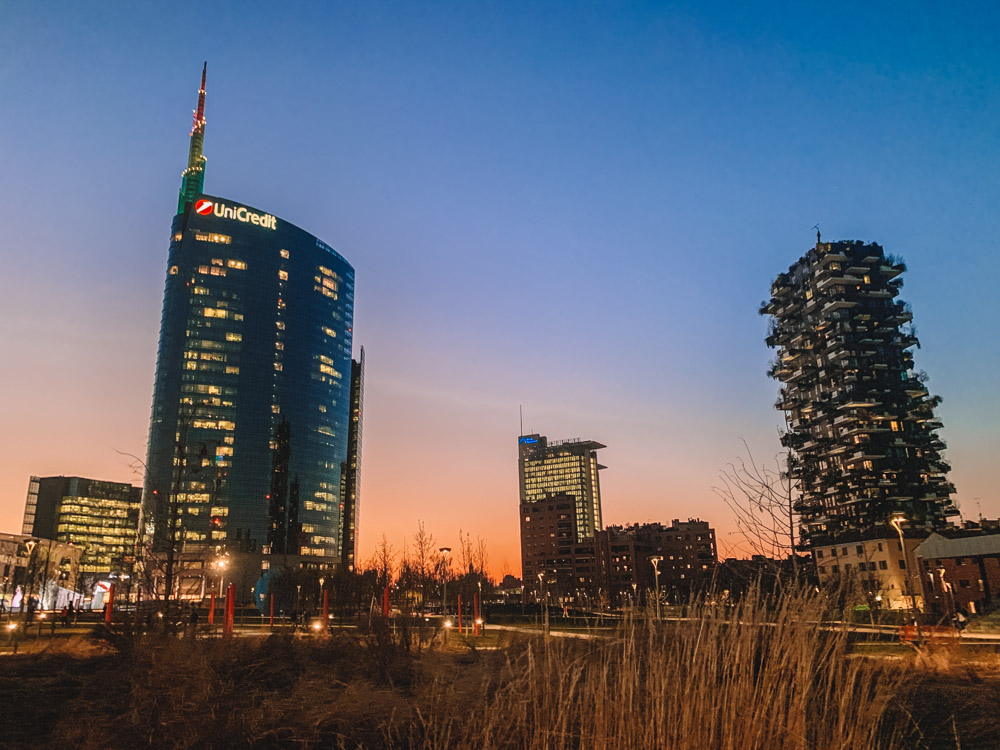 Art-deco apartments have sprung up in the area over the past few years, and the fact that the neighbourhood is still fairly unknown by tourists makes it all the more alluring.
It's still home to much of the working class in Milan but has a much more creative spin than it has had in the past.
There isn't an awful lot of sight seeing to do in the neighbourhood, but it's pretty central and well connected to all the main attractions.
After all, I'd rather wander around a city more during the day but then have a shorter journey home at night after I've been out partying than the other way around!
KK Design Suite is located in the heart of Isola, and is an independent apartment so you can have a bit more privacy. The interior is very finely decorated, making it feel very cosy.
Click here to book your stay at KK Design Suite!
This spacious apartment hosts up to 6 people, and is located close to the neighbourhoods of Isola and Porta Nuova.
It has a fully equipped kitchen, so that you can cook yourself a nice dinner before heading out for the night.
It's set in an elegant mid-century building, and the interior decor is equally charming. Young group of friends will particularly enjoy staying in this apartment and area of Milan.
Click here to see prices and availability at Over and Over in Milan!
Navigli is also considered one of the best neighbourhoods to stay in Milan for young people, thanks to the abundant choices of entertainment.
The district contains two main canals, Naviglio Grande and Naviglio Pavese. Both are lined with cafes, restaurants, bars, design shops and galleries. Which make them the perfect area to stroll through and explore.
The area is notoriously 'cool' among young individuals because of its thriving nightlife scene.
No matter what time of year you choose to visit, Navigli is sure to be pumping with exciting activities and entertainment all night long.
If you're looking for the best location to stay in Milan, Italy, that will keep you busy day and night, Navigli is the perfect spot to base yourself.
During the day you can walk around the area or go visit the centre of Milan, just a short underground journey away.
Art Hotel Navigli offers an interesting decorative display – a mixture of paintings and sculptures. Each room is fitted with its own free WiFi, minibar and coffee machine that makes filling up with refreshments easier than ever.
An American-style buffet breakfast is served every morning and makes for the perfect start to a day in Milan.
Click here to see the latest prices and availability at Art Hotel Navigli!
Hotel La Vignetta – Best hotel for enjoying the Milan nightlife scene
Hotel La Vignetta is located just a 250m walk from the Navigli canals. Each guest room comes with air-conditioning and free-WiFi.
It's a great choice of hotel for any travellers looking for great restaurants, a thriving nightlife and to shop luxury brands.
Check out the latest prices and availability at Hotel La Vignetta!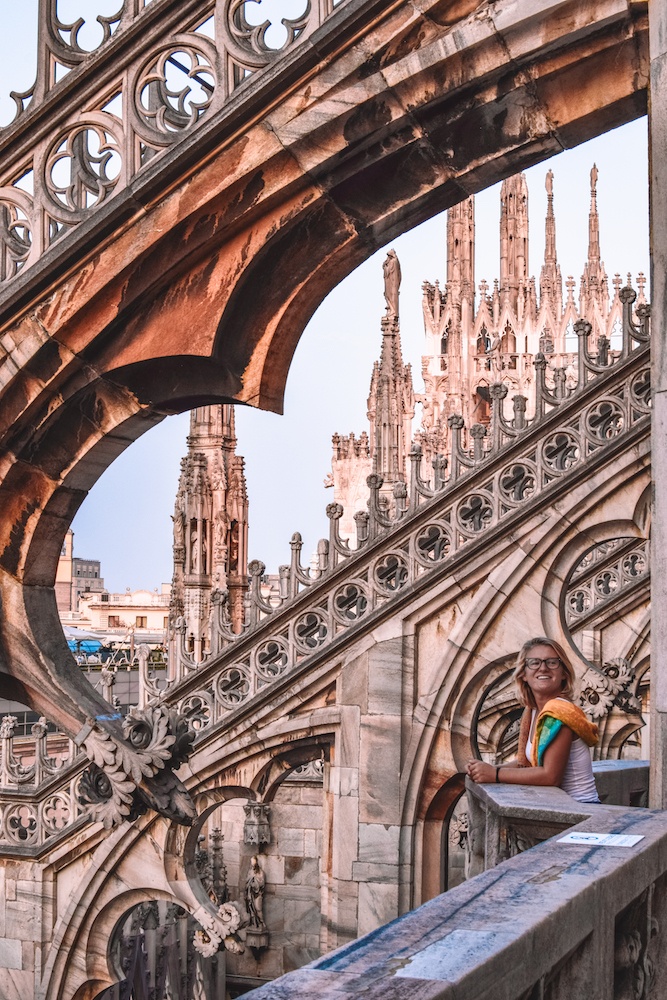 Best neighbourhoods to stay in Milan for first-timers
If you're a first-timer in the wonderful city of Milan, you'll want to stay as central as possible, so as to be near to all the most popular tourist attractions this city has to offer!
You'll want the very best places to stay in Milan, Italy.
Brera is often referred to as the artist's neighbourhood in Milan, as it has many art galleries, creative facets and the famous Art Academy of Brera.
You'll get the chance to explore a variety of historical buildings in the area, as well as indulge in many other activities that give the area so much character.
Restaurants, bars, cafes, night clubs, antique shops, art galleries, colourful street markets and fortune-tellers booths are all on the cards for those staying in Brera, a great location of Milan.
Brera is also a short walk away from Piazza del Duomo and Castello Sforzesco, two of the main attractions in Milan.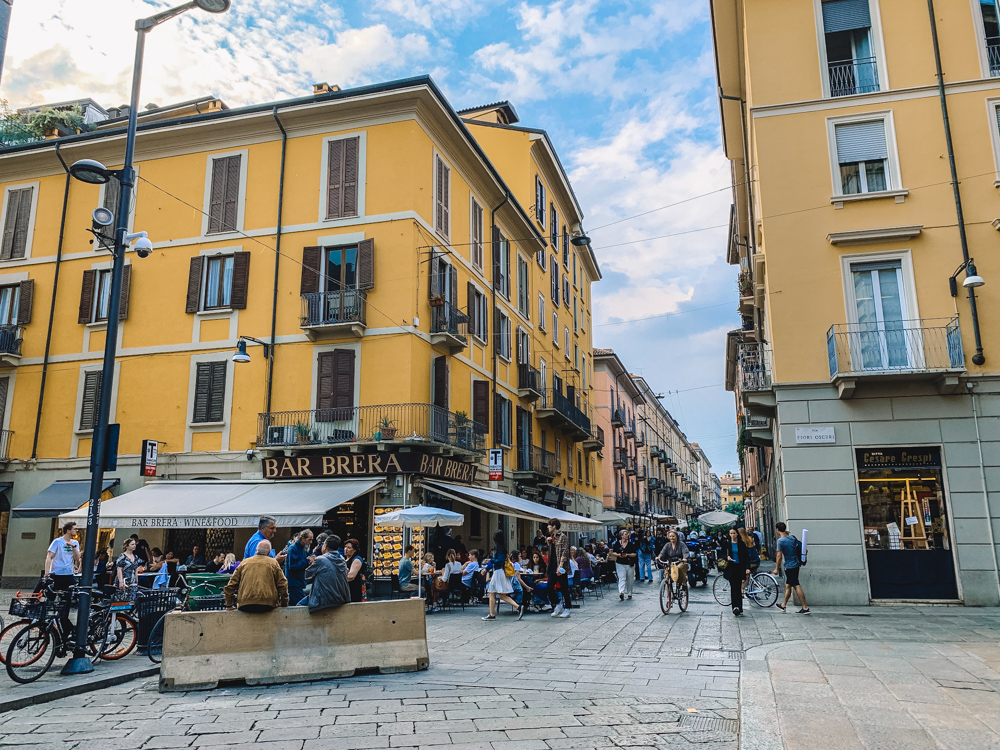 Bulgari Hotel Milano – Best Hotel for Enjoying the Finer Things in Life
Bulgari Hotel Milano is the definition of elegance and style. It has a vintage cigar bar feel but makes you feel right at home.
The hotel is adjacent to one of the most important shopping streets in Milan, which makes it one of the best Milan places to stay (especially for first-timers).
Click here to book your stay at Bulgari Hotel Milano!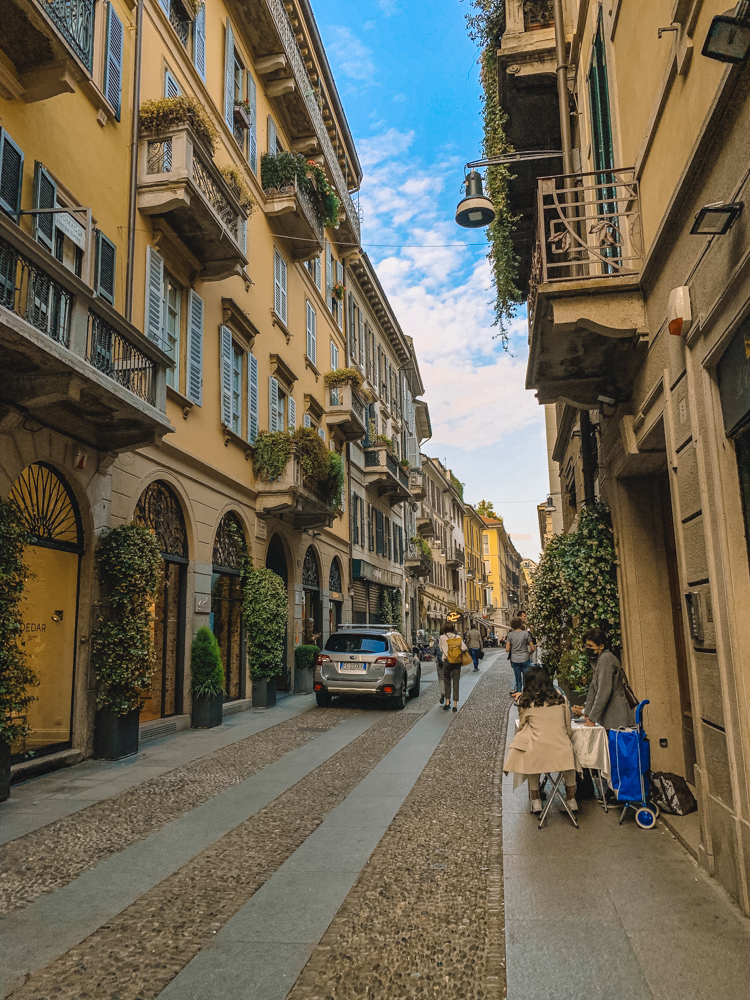 Milan City Centre
Milan city centre is the perfect place to locate yourself in the city if you're a first time traveller. The overwhelming number of things to do and places to see is sure to keep you busy your whole holiday long!
There are a variety of art galleries, fashion hubs, historical sights, as well as plenty of exciting events that take place in the city centre of Milan – so be sure to research what's happening in Milan before your trip.
Everyone thinks of Italy in summer as the best time to visit, when the piazzas come alive, but personally, I think Milan in winter is more charming.
It obviously depends where you go in Italy in winter, but cities like Milan, are perfect winter getaways, since you can still do all the activities you would in summer, with less crowds and cheaper prices.
Accommodation in Milan city centre can be pricey, but if you're visiting in shoulder season or off season, prices drop considerably.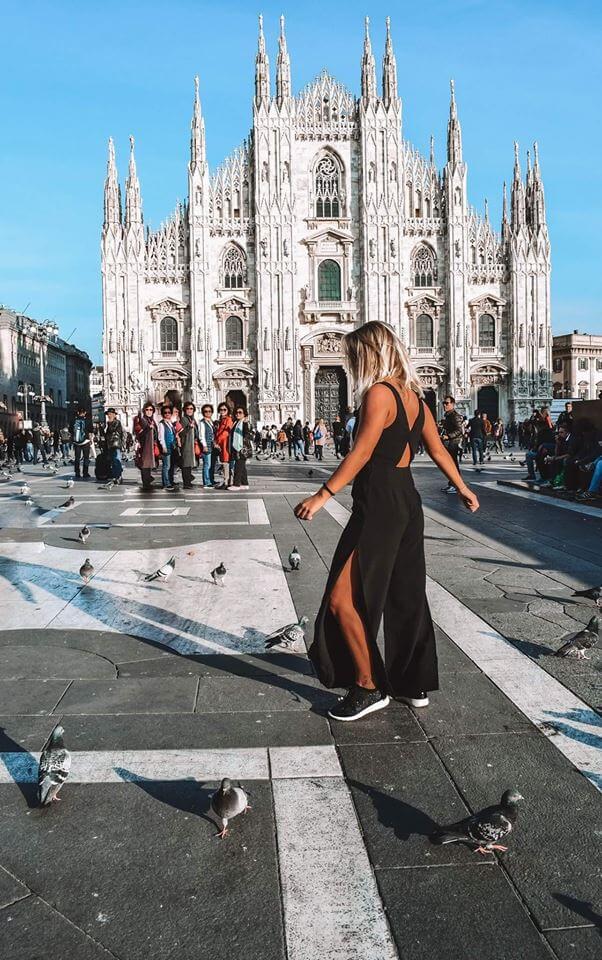 Hotel Rio – Best hotel with a convenient location
Hotel Rio is located in a vibrant part of Milan City Centre and is located just 100 metres away from the Metro Station – making transport a breeze.
It's a small yet charming hotel that encourages you to relax and have a drink at their on-site bar.
If you're looking for where to stay in Milan for one night, this might be the answer because of its incredibly convenient location.
Click here to book your stay at Hotel Rio!
Galleria Vik Milano – Best hotel in Milan to treat yourself
Galleria Vik Milano offers the ultimate luxury accommodation in Milan. It is located inside the Galleria Vittorio Emanuele II shopping arcade which is a beautiful shopping centre.
Each room has its own balcony with stunning views of the Galleria. It could easily be considered one of the best hotels to stay in Milan.
Check out the latest prices and availability at Galleria Vik Milano here!
As the name suggests, the terrace is the selling point of this central apartment. Located in the heart of Milano, this apartment is easily connected to all the main attractions of the city.
It also has a huge terrace with dining table and seating area. Whether it's a morning coffee or sunset aperitivo, the terrace at Terrazza Milano is a space begging to be lived. 
The interior design of the apartment is also lovely, more on the traditional side, but still offering a unique place to stay and relax at the end of a long day sightseeing around Milan.
All in all, it's without a doubt one of the best places to stay in Milan.
Click here to book your stay at Terrazza Milano!
Best places to stay in Milan, Italy for families
When you're travelling with your family, you need to find the best areas to stay in Milan, Italy that contain plenty of family-friendly activities.
I imagine you'll also want to stay somewhere a bit quieter than the central areas where all the tourists come and go.
San Siro is a district that lies 5 km north-west of Milan city centre. The area was a small settlement until the end of the 19th century but was majorly transformed throughout the 20th century.
The area is diverse, with wide-open green spaces, as well as many beautiful apartments and entertainment facilities. Unlike the rest of Milan, San Siro lacks a long history but makes up for it with its modern look and feel.
San Siro is home to some of Milan's best-sporting facilities, amongst which San Siro Football Stadium, and is always a buzz with excitement and activity.
B&B Hotel Milano is the perfect family-friendly hotel in one of the best neighbourhoods in Milan.
You can book sightseeing tours at the front desk, making it perfect for families who want to keep busy and make the most of their trip.
Click here to see the latest prices and availability at B&B Hotel Milano!
Situated close to San Siro, this spacious apartment is perfect for a family or a group of friends (it sleeps up to 4 people). It has a wide living with floor to ceiling windows, which let in plenty of light.
It also has a lovely terrace, from which you can enjoy the view over the rooftops of Milan and drink your morning Italian coffee before hading out to explore.
It's not super central, but it's well connected to the rest of the city.
Check out prices and availability at Libreria, in Milan, here!
Arco Della Pace
The district is named after the Arco Della Pace (Arch of Peace), located in its centre and is one of the most important monuments in the city.
However, it's not the only important monument in the district! There are plenty of other sights worth exploring.
The buildings around Arco Della Pace are all historical and beautiful, just walking around will give you the opportunity to soak in the Milanese vibe.
From here you can also easily visit Parco Sempione (the biggest park in Milan) and spend some time wandering around the green gardens.
Corso Sempione, the road just in front of Arco della Pace, is lined with bars and restaurants, making it also a perfect area for the evenings.
When we were younger (highschool teenagers who had just started drinking alcohol) we would get drinks from one of the many bars in Corso Sempione and then sit along the big steps in front of Arco della Pace.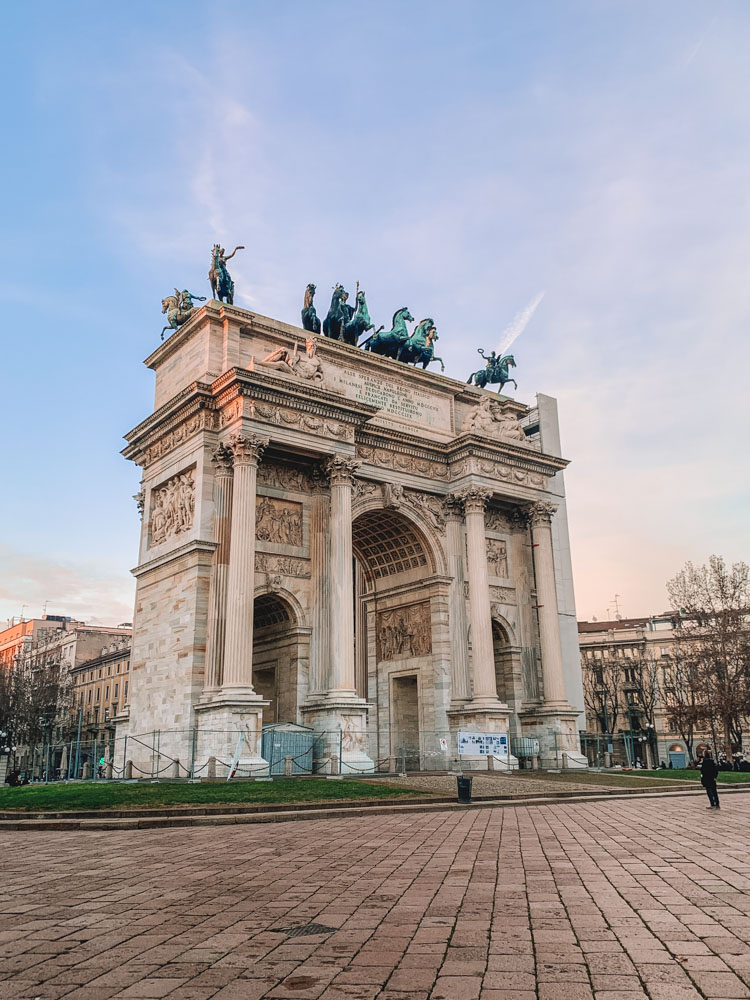 Sweet Inn offers apartment accommodation, which is perfect for families who value a little bit of privacy.
Located just a short walk from many of Arco Della Paces main attractions, this accommodation helps families save money and travel time.
Click here to book your stay at Sweet Inn Milano!
Pink Ladies of the World – a unique apartment rental in Milan
Located between Arco della Pace and the vibrant Chinatown district, Pink Ladies of The World is a truly unique property in Milan. It's a studio, but with a unique layout that makes it feel very spacious.
It only sleeps up to two people, but is the perfect place to stay in Milan for those looking for something central, affordable and unique.
With its pink walls, colourful kitchen, and quirky interior design, it's the perfect base for your Milan adventures. Attractions like Castello Sforzesco and Arco della Pace are a 10-15 minute walk away.
Click here to see prices and availability at Pink Ladies of the World!
Where to Stay in Milan, Italy for Shopping
Feeding a shopping addiction is even more fun while you're travelling.
The overwhelming amount of choices for shopping in Milan make it a wonderful shop-till-you-drop destination, after all, it's not the city of fashion for nothing! Here's where every shopaholic should be staying in Milan.
Corso Buenos Aires
Corso Buenos Aires is home to one of the busiest streets in Milan. Corso Buenos Aires is located in the northeastern part of Milan.
The main road in the area is named after the district and stretches 1.2 km long. This is where you'll find over 350 shops and outlets, which is the highest concentration of clothing stores in Europe!
While most of Milan is dedicated to high fashion, this area sells mainly mass-produced ready-to-wear type clothing.
This makes it a much more affordable shopping option too. It may take you a few days to visit each and every store, but can easily be considered a shoppers paradise!
My dad lives close in the area and whenever I go to Milan now I always top up my wardrobe with a quick shopping visit to Corso Buenos Aires. It's also easily connected both by bus and underground to central Milan.
Hotel Bernina is located near the Corsa Buenos Aires Street which makes travelling to your shopping destination an absolute breeze.
A buffet breakfast is served every morning to fuel you up for a day full of shopping, and you'll be provided with easy access to the metro system.
Click here to see the latest prices and availability at Hotel Bernina!
Located close to the famous Corso Buenos Aires shopping street, this rustic apartment has a unique charm that doesn't seem to fit with the city of fashion.
Here you'll find pastel green walls, plenty of plants everywhere, and a lovely outdoors terrace.
It sleeps up to 8 people, so can easily be used as base for a big family or group of friends travelling to Milan. You're right on the doorstep of Corso Buenos Aires and Porta Venezia, so can easily go anywhere in the city.
If you head out for a shop till you drop session in Corso Buenos Aires, you can rest assured that your place to "drop" isn't far off.
Click here to book your stay at Greensleeves in Milan!
Places to Stay in Milan for Couples
Travelling with your significant other? You'll need to find the best areas, and the best Milan hotel to bring your romance to life.
While Milan is known for being one of the most romantic cities in the world, there are some areas that are a little more romantic than others.
Here's where you should be staying with your partner on your Milan trip!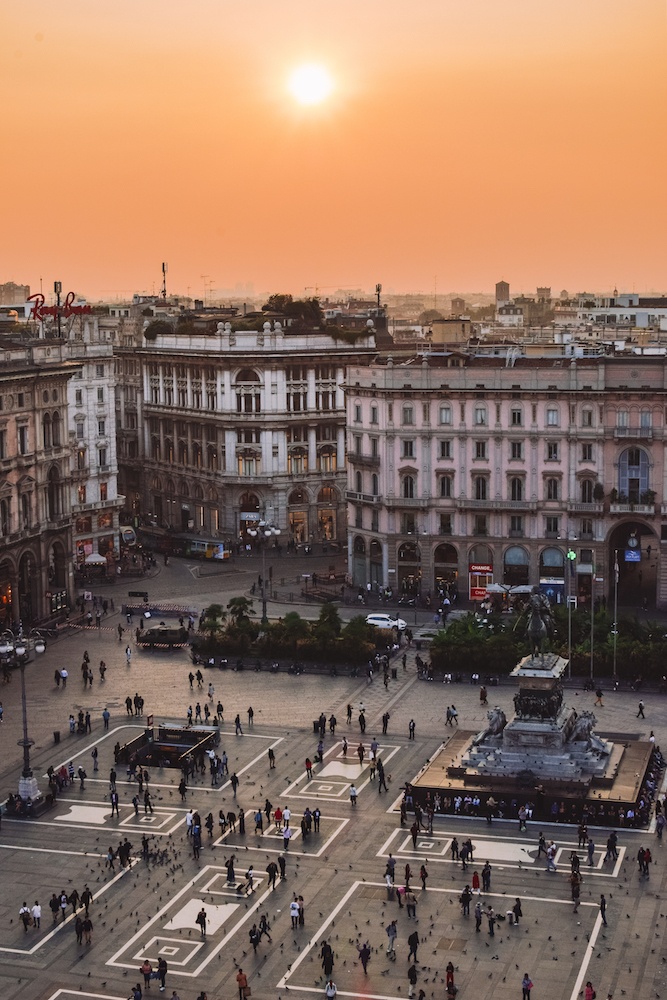 Porta Venezia
Porta Venezia refers to the historical gates in the city that can be traced back to medieval times, as well as the surrounding district.
The gates were originally part of the Roman wall that ran through Milan, but are now stand-alone gates. The area has medieval origins, but most of the remaining architecture can be traced back to the 19th and 20th century.
Porta Venezia has become popular among foreign immigrants and is one of the most ethnically diverse communities in Italy.
So what makes this area so romantic? It's ancient architecture, romantically lit restaurants and cafes, exciting night clubs and an overwhelming amount of entertainment options all add to the romance of this lovely district.
Here's where you should be staying with your significant other in Porta Venezia.
Just Hotel Milano is a contemporary hotel located within walking distance from the station and just 2 km from the fashion district.
It offers romantic accommodation for couples and provides air conditioning as well as free WiFi in every room. It's exposed stone walls give the rooms a fantastic ambience.
Wake up to a buffet breakfast every morning, or order room service if you'd like to snuggle for a little while longer.
Click here to book your stay at Just Hotel Milano!
In true Milan style, this beautiful apartment has a modern, unique and quirky interior decor.
It also has huge windows and a spacious balcony, so that you can enjoy the morning light streaming in, as well as meals out in the sunshine.
Located close to Porta Venezia, it's in an ideal position to explore the city. It's been recently renovated in a modern style, and is fully equipped to meet any need you might have while in Milan.
Check out prices and availability at Prismatic here!
Final thoughts on where to stay in Milan
Milan is an absolutely incredible city filled with history, entertainment and exciting opportunities!
Many travellers skip it in favour of visiting Rome, Venice and Florence, but I personally believe it's a great city (even though I might be a little biased).
Finding an area to stay in Milan that is close to many of the main attractions you'd like to visit is crucial to making your trip the best it can be.
I hope you have found this Milan accommodation guide useful in figuring out which area of Milan is the best for your type of travels.
If you have any questions let me know in the comments below! After all, Milan is my hometown and I want you to have the best possible experience of it!
Looking for more Italy travel tips? Check out these guides:
Enjoyed reading about where to stay in Milan? Pin it!